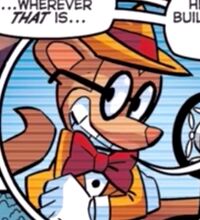 Wes Weasely is a Mobian Weasel who served as the commentator for the Chaos Emerald Championship. As such, he identified several sponsors of the tournament, including HEXAeco, MeteorTech, and the Meropis Tourism board-he admitted to not having a clue as to the location of the latter. He is also a proud sponsor of Chao Cola, which he advertised during his commentary. (StH: #269, #270)
Background Information
Like Breezie the Hedgehog, Wes Weasely originated from the Adventures of Sonic the Hedgehog cartoon series. Much like Breezie, Wes underwent a fairly drastic redesign in the comics. His original cartoony appearance was much more human-like, while his Archie incarnation matches that of a traditional Mobian Weasel (previously established by Nack).
Though not explicitly identified as Wes Weasley in his brief cameo appearance, this is the name commonly associated with him. As such, the name falls under tier 2 canon.
Ad blocker interference detected!
Wikia is a free-to-use site that makes money from advertising. We have a modified experience for viewers using ad blockers

Wikia is not accessible if you've made further modifications. Remove the custom ad blocker rule(s) and the page will load as expected.