This article is incomplete or has incomplete sections. You can help Mobius Encyclopaedia by expanding it.
For the version of the character that appeared in the Worlds Unite crossover, see the full Skies of Arcadia article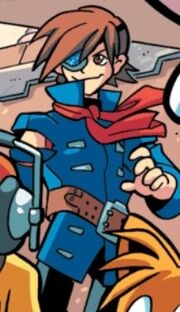 Vyse is a teenage member of a group known as the Blue Rogues from the world of Arcadia.
History
Grand Prix
Vyse was one of several racers from various worlds invited to participate in the Another Time, Another Place Zone's Second Annual All-Stars Racing Grand Prix. While he was excited to compete alongside fellow racers such as Sonic the Hedgehog, Tails, Beat, Aiai, and Danica Patrick, he was less pleased to be facing off with Dr. Eggman, who threatened his world and those of his new friends. (SU: #45)
Personality
Abilities
Background Information
Vyse is the main protagonist of the game Skies of Arcadia, which was released on the Sega Dreamcast. His appearance in SU #45 mirrors his inclusion as a playable racer in Sonic and All-Stars Racing Transformed.
Vyse later appeared again, with the rest of his teammates, in the Worlds Unite crossover, this time encountering the main Prime Zone version of Sonic the Hedgehog among other allies from that zone. This Vyse, however, is seen as an entirely different individual from the one who appeared prior. For more info on this version, see Skies of Arcadia.
Ad blocker interference detected!
Wikia is a free-to-use site that makes money from advertising. We have a modified experience for viewers using ad blockers

Wikia is not accessible if you've made further modifications. Remove the custom ad blocker rule(s) and the page will load as expected.