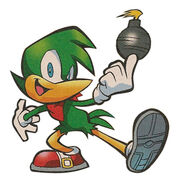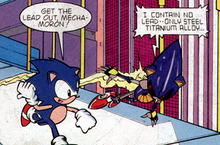 Hi people I've been on "M.E"  for a while now and am now an admin on the Archie Mega Man Wiki. Please stop by there if you have the time
Just so you know i am British, therefore I may spell things differently (for instance the word Colour or Favourite).
My Favourite charactersEdit
My favourite characters (Male)
Edit
Sonic
Tails
Shadow
Silver
Bean the dynamite
My favourite characters (Female)
Edit
Amy
Sally
Bunnie
Fiona fox
Blaze the cat
My favourite characters (Robot)
Edit
Metal Sonic
T-pup
Mecha Sally
Tails doll
Omega
My Predictions
Edit
I predict that sally will be de-roboticized by sonic 250, and that something big is going to happen with silver (he's probably been in the most sonic universe arcs and he is on the promotional poster for the sonic/mega man crossover).