The publication of this article has not yet been released. The contents is a reflection of what is currently known about the publication rather than coverage of the issue itself. As such, the page may contain spoilers as details from those who have received the issue early via subscription will be added as they come.
This article is incomplete or has incomplete sections. You can help Mobius Encyclopaedia by expanding it.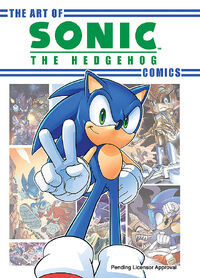 The Art of Sonic the Hedgehog Comics was an unreleased artbook by Archie Comics. It will contain various artwork pertaining to the Sonic Comic Universe. Listings for the book have since vanished online, with no indication of whether it will eventually see release.
Ad blocker interference detected!
Wikia is a free-to-use site that makes money from advertising. We have a modified experience for viewers using ad blockers

Wikia is not accessible if you've made further modifications. Remove the custom ad blocker rule(s) and the page will load as expected.