Sonic the Hedgehog (future version)
Talk

2
1,950pages on
this wiki
You may be looking for Sonic (MxYL).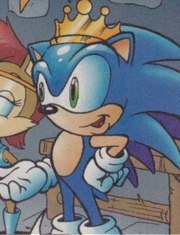 Sonic the Hedgehog (future version) was a future counterpart of Sonic the Hedgehog from a alternate future version of Mobius. During his final battle with his version of Dr. Robotnik, he managed to defeat the tyrant even after he roboticized himself and became Robo-Robotnik. What Sonic did not realize was that his arch nemesis survived the battle by transporting his digital mind to a derelict space station in orbit. With Robotnik incapacitated and believed to be dead, peace ensued across Mobius. Sonic eventually married Sally Acorn and had two children with her, Sonia and Manik. Having ruled peacefully over the Kingdom of Acorn for many years, he and Sally commissioned Rotor to build a new NICOLE, based on a similar computer that Sally had owned in her youth that was destroyed in the final battle with Robotnik. (StH: #22, #119, IYF)
After a brief encounter with Robotnik Prime, who was transported to their universe inadvertently by his rogue creation E.V.E., King Sonic dismissed what he and his family witnessed as a "freak of nature" and assured his wife that Robotnik was dead. Unbeknownst to him, Robotnik Prime's disappearance was simply due to him being transported aboard the space station Robo-Robotnik's consciousness was stranded on. The encounter with Robotnik Prime encouraged Robo-Robotnik to seek a means of survival, and he eventually rebuilt a body for himself using the piece of the Giant Borg in their universe. King Sonic and his entire family were subsequently killed by Robo-Robotnik when he nuked Mobotropolis. (StH: #22, #75)
His Majesty wore a golden crown on his head, in addition to his white gloves and Power Sneakers.
Background Information
This version of Sonic the Hedgehog is the first known alternate future version of Sonic to be introduced in the comic. The second version from Light Mobius bore a great deal of resemblance to this Sonic, both in family setup and in attire.
The fact that this zone holds a piece of the Giant Borg strongly implies that this Sonic must have been part of the army of Sonics from around the multiverse in Sonic the Hedgehog #19.
Former head writer Ken Penders' view was that the Robo-Robotnik from that issue was the same entity who later became Dr. Eggman, meaning that this version of Sonic would have been the same as Cyborg Sonic. However, current head writer Ian Flynn has retconned the plot by identifying the two Robo-Robotniks separately, meaning that the two Sonics are likewise different beings, and there is no reason to think this Sonic was ever a cyborg.