Sonic redirects here. For other versions or uses of Sonic, see Sonic (disambiguation).
Sonic The Hedgehog
First Appearance
Issue
Biographical information
Age 

17 (born on day 162, 3220)

Sonic is biologically 16 due to his time in space

Relatives 
Alias 
Rank 

Co-Leader of the Freedom Fighters

Species 

Mobian Hedgehog

Physical description
Gender

Male

Description

Height: 100cm
Weight: 35kg
Fur: Cobalt Blue
Eyes: Emerald Green
Skin: Peach

Attire

White hand gloves, white socks, red sneakers with white strap and gold buckle on each.

Political Alignment and Abilities
Affiliation
Abilities
Notable Super Forms

  
"
Let's do it to it!
"

–Sonic's oft-used catchphrase, Various issues
History
Appearance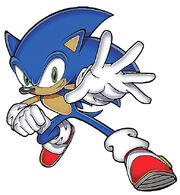 Sonic is a Mobian Hedgehog who stands at a height of 3 feet 3 inches, an average Mobian high. He has blue fur covering most of his body. His muzzle, arms & torso are peach colored, and his eyes are emerald green. He has 6 head quills dropping back from the back of his head, 2 quills protruding from his back drooping downward and a short tail that points up. He wears white gloves but his most distinguishing trademark features are his full red, single white striped, gold buckled friction-proof sneakers.
Abilities
Personality
Romance
Background Information
Origin
Sonic the Hedgehog is the title character of Sega's flagship video game franchise, who first appeared in 1991 in his first game for the Sega Genesis console (also known as the Mega Drive outside of North America). He was designed in Japan by Naoto Ōshima, who also designed Doctor Eggman. The creation of the character as a new mascot was fueled by Sega's need to counteract against Nintendo, Sega's biggest competitor at the time, and their own equally popular mascot character Mario. Sonic the Hedgehog as the official mascot also replaced Alex Kidd, Sega's de facto mascot from the 1980s. The success of the first Sonic game led to multiple sequels and spin-offs, as well as adaptions in other media such television and comics, leading to the creation of the licensed Archie Comics series in 1993.
The comics were originally designed to compliment not just the video games, but also the two upcoming TV shows in-production at the time, where many of the key characters, both protagonists and antagonists, were adapted from. The tradition of adaptations from other media, games and non-games alike, continues to this day. Overtime, the comic creatives took great liberties with Sonic's backstory in the comic, which is considerably different to the backstory given in the original Japanese Sega material, for instance, Sonic's birthplace was original stated to be the real-world location of Christmas Island, rather than his Archiveverse birthplace of Mobotropolis.