Sonic the Hedgehog
Talk

75
2,447pages on
this wiki
 Sonic redirects here. For other versions or uses of Sonic, see Sonic (disambiguation).
Sonic The Hedgehog
Biographical information
Age 

17 (born on day 162, 3220)

Sonic is biologically 16 due to his time in space

Relatives 
Alias 
Physical description
Gender

Male

Description

Height: 70 marks
Weight: 7.2 stone
Fur: Blue
Eyes: Green (originally brown)
Skin: Peach

Political Alignment and Abilities
Affiliation
Notable Super Forms

  
History
Abilities
Personality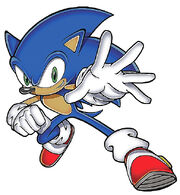 Sonic is a daredevil who can run at the speed of sound & beyond. He is a fun and fast guy out on an ego trip. Having saved the world numerous times has left Sonic with an inflated sense of self as he thinks highly of himself. Ever since stepping into the battle against injustice, Sonic has been the champion of peace. Well-known for his legendary cocky attitude, easy-going demeanor and somewhat short temper, yet strong sense of justice and love for freedom and adventure, Sonic uses his abilities to protect the innocent and his world (as well as many others) from the forces of evil, especially his arch-enemy Dr.Robotnik who constantly seeks world domination.Throughout his life, Sonic has exhibited a great desire for adventure and excitement, in keeping with his super speed. Thrill-seeking aside, he genuinely cares for the people and things he fights for, which at times has led him to break the rules in order to do what he thinks must be done. His greatest flaw in this area may be that he has developed something of a need for action, which leaves him uneasy in times of peace and often influences his decisions more heavily than any other factor. Though he has great loyalty to his friends, family, nation, and Mobius in general, he has shown a tendency to be hesitant about committing to anything that doesn't allow him to fight for the things he cares about.
He has a bragging nature and that shows as he enjoys gloating about his accomplishments even going so far to rub others noses in it. Due to his many accomplishments Sonic has amassed quite the fan base. This group consists of all different types including children, older fans who enjoy his exploits and rabid fan girls bent on marriage. Even though he isn't intrigued by the marital proposals at all he enjoys all the attention he gets from females sometimes. Depending on the person Sonic can either treat them great & be happy to give them his time or outright ignore them
In dealing with his enemies, Sonic is usually light-hearted in behavior, often mocking his opponents with insults and puns. Given how serious he can be in some cases, however, it is likely that these jokes are an attempt to lighten the mood or project an air of confidence. Of course, it also serves (in most cases) to aggravate his enemies to the point of distraction. A milder form of this behavior is found in ribbing of his various friends and allies, who he often aggravates while attempting to get them to loosen up. However, after Sally's roboticization and the events that followed, he has become far more serious, moodier, distrusting, and unforgiving than usual, most often during the course of battle, though he did try to maintain his cool, light-hearted demeanour after Team Fighters began their mission. Conversely, he can also become friendly to those he previously distrusted in a flash, as seen by how he quickly forgave Mega Man even after the they had been trying to destroy each other just moments before, much to the boy robot's surprise, though this was most likely because it was all just a misunderstanding and Sonic didn't wish to broad on it.
Sonic enjoys being laid back and confident, rarely showing any signs of being put off by anything. It is only in the moments of greatest loss (such as the destruction of Knothole, Eggman's [temporary] descent into madness, and Sally's roboticization) that his macho and carefree appearance falls away.
Deeply devoted to his friends and family, Sonic enjoys helping them every chance he gets. In particular, he helps less confident individuals express themselves and toughen up, as when he helped Mina Mongoose use her singing talents. However, he also has something of a bullheaded streak which causes him to think that he is right and everyone else is wrong. This had led him to clash with other such strong personalities as Knuckles, Geoffrey, Monkey Khan, Tails, and even Sally. In the case of the latter, Sonic prefers to make up plans as he goes along, whilst Sally is more tactically minded.
For all his rough edges, Sonic has shown himself to be quite a gentleman, almost always showing respect to women. This has been demonstrated in his first encounters with Bunnie and Rouge the Bat, as well as in other situations. While he tends to treat her differently, Sonic also shows Sally a great deal of respect, though their years of being acquainted and closer relationship seems to lead him to treat her more like "one of the guys" in many group situations.
Romance
Relationships
Background Information
Former comic writer Ken Penders had originally intended to have Sonic's full name as "Olgilvie Maurice Hedgehog". On Sonic's Data File page, it leaves his first name a mystery, as Penders intended to have his first name mentioned later on. This plot idea never came to be however, as Penders left the comic staff after issue #160. Thus, Sonic's first name is still not actually Sonic, and his true first name remains unknown, but Ian Flynn has confirmed that it is not Olgilvie. Ian Flynn's unofficial character Q&A from February, 2009, Sonic's father Jules said that Sonic had Elias rechristen him as Sonic, making it his real name. It has been confirmed in FCBD 2011 in his profile that he legally changed his name to Sonic, with no offense to his ancestors.(1)
Originally Sonic was to have spent a full year in space. This was retconned later when the date in StH #157 showed the year as 3237, which would mean he only had his seventeenth birthday in issue #160 but still biologically be sixteen.
In the cartoon shows Sonic the Hedgehog, Adventures of Sonic the Hedgehog and Sonic Underground, Sonic was voiced by Jaleel White. When Sonic met up with the robot Wolvurkel, a robot parody of the character Urkel also played by White, Sonic mentioned the robot's voice seemed familiar.
Interestingly while Sonic being 17, in StH #188 Sonic stated he was "kicking Scratch and Grounder's butt" since he was 8. While only two years have past since they were produced (StH #2). Thus meaning more years may have past since StH #1, or he may have been refering to Badniks in general.

The reason Sonic said this may be because in an episode of "Adventures of Sonic the Hedgehog" Tails stated that he was only four and a half years old. Nine years ago he would have been eight and Tails would have been three, so it may be implied some of the content in the show was canon to the comic.

Sonic is supposedly the embodiment of Chaos, which was confirmed by Eggman in StH#210.  This might explain a lot of things that have happened in the series, such as when Sonic was able to survive the Xorda attack, and transform into Super Sonic when the Master Emerald's power was locked. In other words, Sonic may have a unique, powerful connection to the Chaos Force.
Bean the Dynamite Duck often calls Sonic "Mr. Needlemouse", which was Sonic's original name.
A frequent artist error in the comics is when in the flash back panels Sonic is shown having his modern appearence when he's supposed to have his classic appearence.
Origin
Sonic the Hedgehog is the title character of Sega's flagship video game franchise, who first appeared in 1991 in his first game for the Sega Genesis console (known as the Mega Drive in Japan and most other countries). He was designed in Japan by Naoto Ōshima, who also designed Doctor Eggman. The success of the first Sonic game led to multiple sequels and spin-offs, as well as adaptions in other media such television and comics, leading to the creation of the Archie Comics series in 1993. The comic creatives at the time took great liberties with Sonic's backstory in the comic, which is considerably different to the backstory given in the original Japanese Sega material, for instance, Sonic's birthplace was original stated to be the real-world location of Christmas Island, rather than his Archiveverse birthplace of Mobotropolis.
Appearance
Sonic is a Mobian Hedgehog who stands at a height of 3 feet 3 inches, an average Mobian high. He has blue fur covering most of his body. His muzzle, arms & torso are peach colored, and his eyes are emerald green. He has 6 head quills dropping back from the back of his head, 2 quills protruding from his back drooping downward and a short tail that points up. He wears white gloves but his most distinguishing trademark features are his full red, single white striped, gold buckled friction-proof sneakers.