Previous Book ←—→ No Next Book


This article is incomplete or has incomplete sections. You can help Mobius Encyclopaedia by expanding it.
Sonic Select Book 10 is the tenth and final book in the Sonic Select graphic novel series of reprints. It collects stories from numerous Archie Sonic comic titles.
Solicitation
Contents
Stories
Special Features
Background Information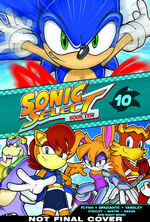 When first announced, the cover featured an earlier, non-finalised version of Bunnie's post-Super Genesis Wave design, and Antoine's nose was shown to be shorter. These were all changed for the final release.
This the second time "Running on Empty" has been reprinted in the series, it was previously reprinted in Book 5.
Edits
The reprint of the Sabrina the Teenage Witch comic cover omits the small picture of actress Melissa Joan Hart (since Archie may not have the rights to use her image in future Archie media now) and the comic story removes the captions that tell the reader to read a previous Sabrina story.
Ad blocker interference detected!
Wikia is a free-to-use site that makes money from advertising. We have a modified experience for viewers using ad blockers

Wikia is not accessible if you've made further modifications. Remove the custom ad blocker rule(s) and the page will load as expected.