No Previous Volume ←—→ Next Volume
Sonic Saga Series Volume 1: The Darkest Storm is the first volume of the Sonic Saga graphic novel series of reprints. It collects stories from #162-#167 of the Archie Sonic the Hedgehog comic book series.
Solicit
Sonic's epic adventures aren't just stories – they're SAGAS! Blast into the action at Sonic speed with the debut of the all-new Sonic Saga series! Sonic and his friends are put to the ultimate test as evil forces converge! The immortal tyrant Mammoth Mogul is released from his Chaos Emerald prison and the wicked wizard Ixis Naugus returns from his exile! As the armies gather, it's all-out war in "The Darkest Storm!" SONIC SAGA VOL. 1 collects selected stories from Sonic the Hedgehog #162-167.
Contents
Stories
Chapter 1
Chapter 2
Chapter 3
Chapter 4
Special Features
These data files are taken from the then-upcoming The Complete Sonic Comic Encyclopedia.
Background Information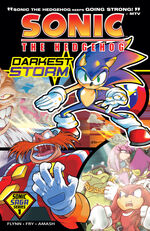 The cover is taken from StH#164.