For other uses of Sonic Man, see Sonic Man (disambiguation).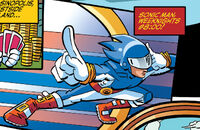 Sonic Man is a Human actor in the employ of Breeze Media who dresses up like Sonic the Hedgehog.
History
Sonic Man was briefly seen in an advertisement about Breeze Media. (StH: #270)
Background Information
Sonic Man first appeared in the game Sonic the Hedgehog (2006).
Sonic Man shares his name with an obscure Robot Master from the Mega Man series, specifically the the first Mega Man game for the PC.