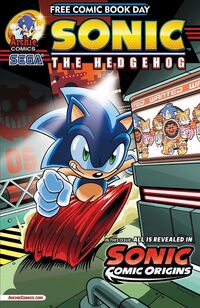 Sonic Comic Origins are an ongoing series of stories published throughout various Archie Sonic the Hedgehog publications. The stories are designed to give readers insight into the histories of various characters as they occurred in the current Post-Super Genesis Wave Timeline, with each chapter focusing on a particular character. Each installment is told via the star character internally reflecting on their past through a series of flashbacks. Chapters of these stories are primarily printed in issues of Sonic Super Digest, though some have also appeared in Sonic Super Special Magazine and Free Comic Specials.
Chapters
Background Information
Origins 1 through 5 and 7 focused on characters from the Sonic the Hedgehog animated series and their new histories in the altered timeline. However, the eighth was later announced to focus on Razor the Shark, a character exclusive to the comics.
All but one of the Origins stories are five pages long. "Into the Unknown" is instead ten pages long.
Reprint History
Ad blocker interference detected!
Wikia is a free-to-use site that makes money from advertising. We have a modified experience for viewers using ad blockers

Wikia is not accessible if you've made further modifications. Remove the custom ad blocker rule(s) and the page will load as expected.