Previous Volume ←—→ No Next Volume

This article is incomplete or has incomplete sections. You can help Mobius Encyclopaedia by expanding it.
Sonic Boom Volume 2: Boom Shaka-laka is the second and final volume of the Sonic Boom Graphic Novel Series of reprints. It collects #5-#7 and #11 of the Archie Sonic Boom comic book series.
Solicit
Contents
Stories
Chapter 1
Chapter 2
Chapter 3
Chapter 4
Special Features
Background Information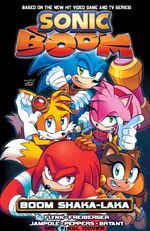 The cover art is from SB#6.

In earlier previews the cover art was that of SB#3.

The volume skips issues 8 through 10 as they are a part of the Worlds Unite crossover, which is reprinted in its own graphic novel series.
Ad blocker interference detected!
Wikia is a free-to-use site that makes money from advertising. We have a modified experience for viewers using ad blockers

Wikia is not accessible if you've made further modifications. Remove the custom ad blocker rule(s) and the page will load as expected.