Previous Volume ←—→ No Next Volume

This article is incomplete or has incomplete sections. You can help Mobius Encyclopaedia by expanding it.
Sonic Boom Volume 2: Boom Shaka-laka is the second and final volume of the Sonic Boom Graphic Novel Series of reprints. It collects #5-#7 and #11 of the Archie Sonic Boom comic book series.
Solicit
Contents
Stories
Chapter 1
Chapter 2
Chapter 3
Chapter 4
Special Features
Background Information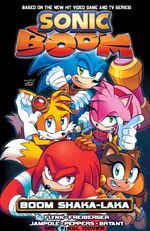 The cover art is from SB#6.

In earlier previews the cover art was that of SB#3.

The volume skips issues 8 through 10 as they are a part of the Worlds Unite crossover, which is reprinted in its own graphic novel series.
This was the final Archie Sonic graphic novel released before the Archie Sonic line was discontinued. Ironically, this would've have been the final Sonic Boom volume regardless, whereas all the other graphic novel series' running at the time would be cut short.