Slicer
First Appearance
Biographical information
Produced 

Unknown

Creator 
Alias 
Physical description
Template

Praying Mantis

Description

Color: Green and grey
Eyes: Yellow

Political Alignment and Abilities
Affiliation
Abilities

Claw detachment
Wallcrawling

  
Slicer is a praying mantis-based badnik created by Dr. Eggman.
History
Egg Army Infiltration
From a reader's perspective, this picks up from where the original Pre-Super Genesis Wave continuity left off.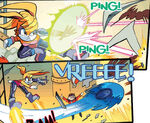 Several Slicers were part of the support forces for the Metropolis Egg Army that engaged Sonic the Hedgehog, Miles "Tails" Prower, and Bunnie Rabbot-D'Coolette shortly before the Metropolis Zone was struck by an earthquake. (StH: #255)
Ad blocker interference detected!
Wikia is a free-to-use site that makes money from advertising. We have a modified experience for viewers using ad blockers

Wikia is not accessible if you've made further modifications. Remove the custom ad blocker rule(s) and the page will load as expected.