This article is incomplete or has incomplete sections. You can help Mobius Encyclopaedia by expanding it.
For more information on the series outside Worlds Unite, see the Skies of Arcadia Wiki.
Skies of Arcadia is a video game produced by Sega and one of numerous franchises involved in the Worlds Unite crossover with Capcom.
Characters and Concepts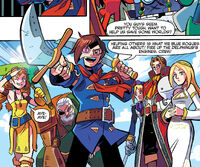 Heroes
The Blue Rogues-a group of noble sky pirates.

Vyse-the teenage leader of a small crew of Blue Rogues.
For the version of this character who appeared in the Another Time, Another Place reality, see Vyse
Villains
Galcian-the villainous leader of the Valuan Empire Armada.
Locations
Vehicles
Delphinus-the ship used by Vyse and his crew.
Background Information
Skies of Arcadia is the only non-Sonic franchise-aside from Archie Mega Man-to have been featured in the Sonic the Hedgehog comics before appearing in Worlds Unite. This occurred as a result of Vyse appearing in Sonic Universe #45, an adapt of the game Sonic & All-Stars Racing Transformed.
Drachma's character and backstory are noted for being based on Captain Ahab from Moby Dick, whereas Aika has been noted for being similar to Sticks the Badger. The primary difference between the two is that Aika was created before Sticks, whereas Ahab predates Drachma by 149 years.
Ad blocker interference detected!
Wikia is a free-to-use site that makes money from advertising. We have a modified experience for viewers using ad blockers

Wikia is not accessible if you've made further modifications. Remove the custom ad blocker rule(s) and the page will load as expected.