This is the article on the time traveler. For one of Dr. Ivo Robotnik/Dr. Eggman's robots, see Silver Sonic.
Silver the Hedgehog
First Appearance
Issue
Biographical information
Age 

14 (Born approx. 186 years after Sonic's time)

Relatives 
Alias 
Rank 

Knight of Kronos-in-training

Species 

Mobian/Hedgehog

Physical description
Gender

Male

Description

Height: 100cm
Weight: 35kg
Fur: silver
Eyes: yellow

Attire

White, navy, aqua, and gold boots
White gloves with gold cuffs and circular aqua symbols

Political Alignment and Abilities
Affiliation
Abilities

Psycho-/Telekinesis
Telepathy
Time Travel
Trans-dimensional Travel

Notable Super Forms

  
"
My name is Silver the Hedgehog, and I must find this "Sonic". Your future depends on it.
"

–Silver's introduction, StH: #194
History
Appearance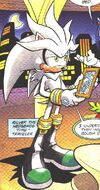 Silver is a very light gray (almost white) with white fur on his chest surrounding his neck with yellow eyes and tan skin. He wears white gloves with cyan circles with lines sticking out of the bottom leading to his golden bracelets accented in cyan. The tops of his boots are of a similar fashion with a red gem set in gold. The rest of his boots are navy blue, white and cyan. He has two large spines at the back of his head, while at the front of his forehead there are five distinct spines flared up and back, the two final ones covering up most of his ears. The glow from his telekinesis is cyan, though it has often been miscolored green.
As part of the Secret Freedom Fighters, he wears a black bodysuit with black gloves and boots; these are accented in cyan bands with gray trimming. This outfit stems from the Sonic Rivals games. Unlike the rest of the team, Silver's outfit doesn't include a visor and facemask.
Personality
Silver has a strong sense of justice and it is this personality trait that motivates him to head back into the past to correct the future to help his people at whatever the cost. However, this eagerness to do good is coupled with a strong naivety; he often jumps to conclusions and readily believes anything he's told. Thus he is prone to manipulation and making poor decisions; he often benefits from having someone to assist and guide him in his actions. Somewhat awkward, he has a tendency of hiding behind bravado. While determined to do the right thing, he lacks ruthlessness and sometimes has trouble figuring out the best way to attain his goals. He's also noticeably shy and somewhat polite. This kindliness often clashes with his sense of justice. Silver's sense of justice goes deeper than just saving the future, though. Regardless of his own goals, he is unable to ignore those in need of help and will put his own missions aside if there's someone in danger. He has a certain arrogance about him as well, often becoming overconfident in his powers and previous successes, which can lead him into compromising situations.
Abilities
Background information
When Silver was first introduced into the comic universe, it was in a similar way to the games universe Sonic the Hedgehog (2006). He went back in time to kill Sonic because he would cause the destruction of his world as the Iblis Trigger. This was later proven false just like the games.

This, in a way, also happened in the comics. As Ian Flynn stated that he is "treating [the comic] as if Sonic06 already happened. Since its story effectively makes itself never happen, [he's] saying that it did happen in the book - which is to say it didn't." (1)

In StH: #194, #195 and in SU: #6-8, Silver had a cyan colored talk bubble, but in StH: #196 and SU: #5, it is green. And in StH: #215 and #216, his speech bubbles are black like everyone else's.
Silver's Secret Freedom Fighter uniform is based of off his race suit from the Sonic Rivals series. He is the only organic Secret Freedom Fighter with no goggles or face mask to obscure his appearance, since unlike the others he is from the future and thus has no connections in the present for enemies to exploit.
Silver is notable for being the only character to connect the worlds of Mobius Prime and Light Mobius, having traveled between the two.
Some fans have speculated that Silver could possibly be the descendant of Sonic, Shadow, Amy or another famous hedgehog, but this has not been confirmed. Evidence to support this theory for the game universe appeared in Sonic and the Black Knight, where Silver was depicted as Sir Galahad, the son of Sir Lancelot who was played by Shadow the Hedgehog, indicating a possible hint at Silver's heritage.

When writer Ian Flynn was asked if he was going to reveal who Silver was descended from, he said "No". He went on to further explain that he is "not touching or even hinting at that in fear of Sega will make it official and make [him] look stupid. That said, [he doesn't] think Sega will ever delve into Silver's back-story. Short of cameo appearances or non-main-series games, [he] think[s] we've seen the last of him. All that said, [he's] sure [Silver]'ll remain a familiar face. And given how much SegaSonic parallels Dragon Ball Z, [he]'d wager Silver is somehow descended from Shadow and Amy. He also said that people should not ask him "how that'd work", and that he was "just going off the patterns," indicating, that it may not be possible. due to various clues and evidence .

Although Sega may not intend to reveal who Silver's parents really are, there has been no evidence from them that destabilises the idea of Shadow as Silver's father - whereas in the future Silver originally came from, Sonic had already been killed before he could leave any descendants.
Silver first appeared in 2006 in the poorly received Sonic the Hedgehog 2006, a game released to celebrate the Sonic series' 15th anniversary. Silver is known to have gone through many design changes before his current look was decided upon, at one point even being conceived as a mink, rather than a hedgehog (this most likely being changed so as to match Sonic and Shadow , the other two main playable characters in 06). Early in development he went under the prototype name of "Venice the Hedgehog": Venice being the name of the Italian city of which Soleanna, the main setting of 06, is based.
Fan reception towards Silver is often mixed, due mostly to the stigma of being introduced in what has been condemned by fans as one of the worst Sonic games of all time. Despite this, the character himself has been mostly accepted.