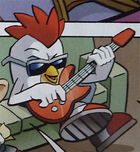 Sharps the Chicken is a Mobian chicken and the bassist for the Forget Me Knots. He's generally very laid back and doesn't speak much. He rarely takes off his dark shades. (StH: #200, StH: #220)
Background Information
Sharps is from the scrapped "Sonic the Hedgehog Band", which appeared in concept art prior to the 1991 release of the first ever Sonic the Hedgehog game; the band was supposed to play music when a player accessed the "Sound Test" option of the game.
Despite SEGA owning the rights to Sharps, and therefore allowing the character to be used again in the Post-Super Genesis Wave Timeline, he has not yet made an appearance in the current comic continuity, and whether or not he will is currently unknown.
Ad blocker interference detected!
Wikia is a free-to-use site that makes money from advertising. We have a modified experience for viewers using ad blockers

Wikia is not accessible if you've made further modifications. Remove the custom ad blocker rule(s) and the page will load as expected.