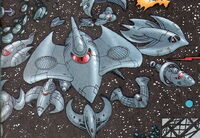 The Sentelle was a space craft commanded by Bagbar Breeblebrox and the flag ship of the Starmada fleet, which was tracking down E.V.E. with the goal of destroying her, after she consumed numerous industrial worlds.
Description
During his trek through space, Sonic the Hedgehog was brought on board the Sentelle when he stumbled across the fleet. He later fled the scene on his own ship when commander Bagbar Beeblebrox ordered Sonic killed, blaming him for E.V.E.'s relentless destruction. The Sentelle and the rest of the fleet had no effect against E.V.E. and were subsequently destroyed in the ensuing battle. (StH: #128)
Ad blocker interference detected!
Wikia is a free-to-use site that makes money from advertising. We have a modified experience for viewers using ad blockers

Wikia is not accessible if you've made further modifications. Remove the custom ad blocker rule(s) and the page will load as expected.