Ad blocker interference detected!
Wikia is a free-to-use site that makes money from advertising. We have a modified experience for viewers using ad blockers

Wikia is not accessible if you've made further modifications. Remove the custom ad blocker rule(s) and the page will load as expected.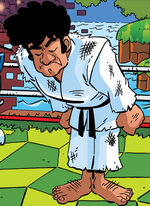 Segata Sanshiro is a Human martial artist who took part in the Chaos Emerald Championship in Casino Park. During the first round, he fought against Sonic the Hedgehog, who managed to defeat him. However, Segata felt no shame in losing to the Hedgehog hero, and bowed in respect to his opponent before departing. (StH: #269)
Background Informations
Segata Sanshiro was a famous SEGA mascot in Japan for a number of years, played by Hiroshi Fujioka of Kamen Rider fame. He was created to promote the SEGA Saturn.
Though not explicitly identified as Segata Sanshiro in his brief appearance, this is the official name given to him by SEGA. As such, the name falls under tier 2 canon.
Segata's battle with Sonic was referenced in the Death Battle webseries episode pitting him against actor Chuck Norris.