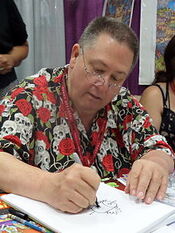 Scott Shaw! was an artist for the Archie Sonic titles.
He was in fact the very first artist to appear in the series, having penciled the first three issues of the Original Sonic Miniseries.
Credits
Ad blocker interference detected!
Wikia is a free-to-use site that makes money from advertising. We have a modified experience for viewers using ad blockers

Wikia is not accessible if you've made further modifications. Remove the custom ad blocker rule(s) and the page will load as expected.