This article is incomplete or has incomplete sections. You can help Mobius Encyclopaedia by expanding it.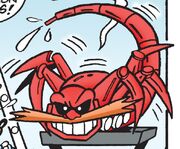 Scorpius was a robot created by Dr. Robotnik, resembling a mechanical scorpion with the Doctors own face.
History
Scorpius was a boss in a zone of the Veg-O-Fortress. However, he proved to be no match for Sonic the Hedgehog and was quickly dispatched by the Freedom Fighter along with his ally Rexxon. (StH: #6)
Background Information
Scorpius originally appeared as the first boss in the Sega Genesis and Game Gear version of Sonic the Hedgehog Spinball.