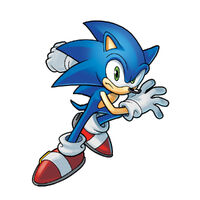 SEGA (originally abbreviated from Service Games) is the Japanese video game company that owns the rights to the Sonic the Hedgehog brand, which is the company's flagship series.
The company has often provided various pieces of stock-art for use in the comic, mostly for promotional material. In recent years, their official 3D renders have been used for variant covers.
Variant Covers Contributed To
Comic Issues
Graphic Novels and Magazines
Sonic Characters and Concepts
See Video Games
Sonic Boom Characters and Concepts
Other Characters and Concepts
SEGA characters from outside the Sonic franchise have made appearances in the comic, either in SU #45 or in the Worlds Unite crossover with Capcom. One character also appeared during the Champions arc of Sonic the Hedgehog, specifically in StH #269.
Characters
Heroes
Villains
Background Information
Ad blocker interference detected!
Wikia is a free-to-use site that makes money from advertising. We have a modified experience for viewers using ad blockers

Wikia is not accessible if you've made further modifications. Remove the custom ad blocker rule(s) and the page will load as expected.