Rouge the Bat
First Appearance
Issue
Biographical information
Age 

18

Species 

Mobian/Bat

Physical description
Gender

Female

Description

Height: 105cm
Weight: Unknown

Attire

Heart Boots
White Gloves
Dark Leggings
Heart Shirt
Purple and pink suit (occasionally)
Black and pink suit (occasionally)

Political Alignment and Abilities
Affiliation
Abilities

Flying
Screw Kick
Espionage

  
Rouge the Bat is a Mobian Bat who is both a part-time government agent and occasional jewel thief. She occasionally works as a spy directly under the President of Station Square and is often involved in events concerning G.U.N.. She also tends to get involved in illegal activities, as she has an affinity for adventure and gems. Rouge has been known to work with heroes and villains alike, including the Chaotix and Dr. Eggman, as long as she gains something out of it. Rouge later joined Team Dark and began working directly under G.U.N. along with Shadow the Hedgehog and E-123 Omega.
History
Appearance
Rouge is a white bat with teal eyes. Her muzzle and torso are somewhat tan, though often coloured as light as Sonic's peach arms and front. Her dark wings are often coloured black or purple. Her short white hair flares out at the back and she typically wears blue or pink eyeshadow, as well as lipstick on occasion. Her typical attire consists of dark skintight pants, a pink, heart-shaped chestplate-like top with white trim, and tall white gloves and boots with pink cuffs. The boots are high heeled and feature hearts on the toes.
Rouge's design is often the subject of artistic error. Most commonly her eyes are coloured blue or green, and her upper torso white. Artist Art Mawhinney depicted her in an outfit only loosely based on her pink-and-purple Sonic Heroes attire, coloured white, pink and grey. In another instance she wore a strapless high-slit pink cocktail dress with white gloves, white tights, pink high heels and a pearl necklace, designed by artist Matt Herms.
Abilities
Being a bat, Rouge is able to fly and glide, and is a skilled fighter who specializes in kicks. Working as both a spy and a thief, she's also been shown to have a knack for espionage, manipulation, sneaking and computer hacking. She's also shown being competent in operating a variety of vehicles.
Personality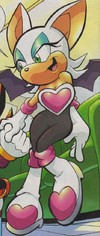 Rouge is a strong-minded young woman, a fearless, ambitious, independent, flirtatious, greedy, ruthless, calculating narcissist who most people see as only caring for herself and her gems. Despite this, she can be helpful and affectionate in her own way, usually towards a select few. She's not above using seduction and manipulation to get what she wants, and is willing to be dishonest and even treacherous should the situation require it with little if any qualms. She's fully aware of her image and will often appear to be sweet when at her most cruel. However, she has, on occasion, shown that she can be heroic and a touch ethical, even if it meant sacrificing something she really wanted to get her hands on.
Despite her many past misdeeds, Rouge doesn't linger on her past, preferring to move forward to new opportunities. While she covers it up with a sassy, sarcastic demeanor, Rouge does possess a caring side beyond her thieving, double-dealing ways. While underhanded, she is also usually capable of recognizing true evil when she sees it. Of course, her care is usually reserved for those close to her, at the expense of all others-including entire worlds. Furthermore, she still seems to have little to no respect for her position as an agent, and has been shown willing to accept bribes from other parties.
Romance
Relationships
Background Information
Rouge is by far the most controversial character in the Sonic series, mainly among parents concerned about her general appearance and mannerisms. Despite this, Rouge is one of the most popular characters in the various Sonic medias.
In StH #166, Rouge was seen wearing her outfit from Sonic Heroes in the issue's back-story, as well as when she was contacted by Sally Acorn in StH #181. She was seen wearing a similar outfit with different colouring in StH #150 and StH #151.
There has been some debate as to the origins of Rouge's name. Some believe it could come from the French word rouge meaning red, due to Rouge originally being introduced as a love interest for Knuckles the red echidna. Another theory was that she was named after the jewel "the rouge", relating to her jewel stealing. Baton Rouge is a city in Louisiana, which could relate to her species. Rouge is also an annagram of the word rogue, meaning deceitful or a mischievous scamp. The term rouge also had negative connections in past eras, often being associated with what was considered less-than-wholesome behaviour (flirting, drinking, dancing, etc.).
Everything about Rouge's past is currently unknown, but some believe that she could be a former member of the Yagyu Ninja Clan as they too are well-trained bats who tend to steal precious and valuable treasures. However, Ian Flynn has shot this theory down on his message board. (1) This was further debunked in the off-panel segment of SU #14.
In an Ian podcast, Ian revealed that Rouge's work for G.U.N. is part of her paying her debt to society for various crimes.
Similar to Cream the Rabbit, Rouge the Bat is one of the few SEGA characters from the comic to have at least a single parent introduced on the games as she mentioned "her mama" on the Nintendo DS game Sonic Chronicles: The Dark Brotherhood.