This article is incomplete or has incomplete sections. You can help Mobius Encyclopaedia by expanding it.
Not to be confused with Georgette Walrus, Rotor's mother in the Pre-Super Genesis Wave Timeline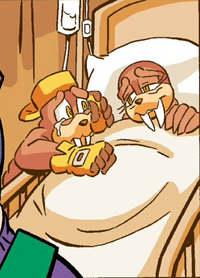 The Mother of Rotor the Walrus, and wife to Tundra the Walrus, fell ill when her son was still a child, having to be hospitalized. She succumbed to this illness. (StH: #280)
Background Information
While never referred to as Rotor's Mother in the issue she first appears in, she is currently assumed to be, as Sally Acorn was talking about her own mother at the time of the character's appearance.
Ad blocker interference detected!
Wikia is a free-to-use site that makes money from advertising. We have a modified experience for viewers using ad blockers

Wikia is not accessible if you've made further modifications. Remove the custom ad blocker rule(s) and the page will load as expected.