Sally Acorn
Talk

74
2,402pages on
this wiki
Sally redirects here. For other versions or uses of Sally, see Sally (disambiguation).
Princess Sally Alicia Acorn
Biographical information
Age 

17 (Born on day 186, 3220)

Relatives 
Alias 

Aly
Bean (Nickname given by King Max)
Sal

Title 

Princess of the Republic of Acorn

Species 

Mobian/Chipmunk

Physical description
Gender

Female

Description

Height: 73 marks
Weight: 6.5 stone
Fur: Light and dark brown

Was discolored for several months due to immersion in a chemical bath

Hair: Dark auburn
Eyes: Blue

Political Alignment and Abilities
Affiliation
Abilities

Diplomatic Experience
Leadership Skills
Martial Arts Skills
Swimming
Able to operate a variety of vehicles

  
History
Romance
Abilities
Sally is agile and proficient in basic combat, martial arts, (such as judo, karate, and kung fu), weaponry skills and hand to hand combat, having been trained by her mentor Julayla to improve her reflexes and self-defense abilities despite average physical strength. Her agility often lends itself to acrobatic maneuvers and skilled climbing. She's a quick thinker and tactician, often using NICOLE to gain information or statistics in order to create her plans, and is familiar with computers in general. She has strong leadership and organization capabilities and has shown to have good aim with various projectile weapons. While it was in her possession, she could use the Sword of Acorns for unusual feats, but eventually rejected it. Sally can also work and operate many varieties of vehicles, aircraft, and machines. Her Genesis reality self could also talk to Flickies by singing, though it is unknown if Sally retains this ability following reality returning to normal.
Another noteworthy skill is Sally's ability to settle most disputes, whether trivial or outright hostile, in a short time. She is a natural mediator and diplomat.
In the post-Super Genesis Wave timeline, Sally gained the ability to use energy blades similar to the ones she used as Mecha Sally.  These blades, projected from her bracelets, are strong enough to withstand Metal Sonic's slashes, and can cut through solid substances such as metal alloys.  Sally wields them with great proficiency in battle.
Personality
Sally is often logical and focused with a playful side. She prefers to plan ahead in almost all situations. She often takes the role of a leader, not only in directing and organizing people en masse but also through mediation and offering suggestions or compromises to difficult situations. Her attitude towards her title of princess is one of duty; she loves her people and strives to do the best she can for them. In this she shows passion, bravery and determination, often remaining undeterred by setbacks. While inwardly compassionate, she can often come off as hard and sardonic. Her personal emotions are sometimes less well-controlled, and under some extreme situations she's fallen into turmoil concerning her relationships with others, especially with her father, King Acorn, and Sonic. She cares deeply for her family and was quick to establish connections with her long-lost mother and brother, though her love for her father is sometimes strained as his past, actions and decisions often cause friction with her ideals. In some cases she fostered some feelings of betrayal and jealousy, though she usually recognizes it while she's doing it. As such, she often confides in NICOLE. Should she think herself to have failed or misjudged a situation in the past, she will often have tremendous self-doubts in herself, sometimes coming to tears in frustration of her perceived inability. Sally is a bit of a tomboy, not hesitating to get into rough or messy situations if needed.
Relationships
Allies
Enemies
Background Information

Sally's middle name has occasionally been mispelled as "Elisha." The name, as with much of Sally's attributes, comes from the Sonic the Hedgehog animated series, where she used it as an alias upon meeting her younger self in the episode "Blast to the Past."
Sally is said to have an unseen star-shaped birthmark (like her brother Elias), but in an embarrassing place.
When the four-part saga "EndGame" was first written, the intent of the writers was to remove Princess Sally from the comic permanently. The idea was to kill the character with enough dignity to not drive away any of the character's fans. During a mission inside Robotroplis, Sally is slain after her rappel wire is cut, sending her falling several stories to the ground; Sonic was framed for her death. The reasoning on the part of the writers was that the arrival of King Max would displace Sally's power, making her unnecessary, and that the restrictions placed on the book by SEGA made it too difficult to continue writing the character as having a relationship with Sonic. SEGA, however, had promotional plans for the character and ordered her to be revived. The character's return was written into issue #50, which interfered with scheduling and caused several pages to be cut. The issue was later revised and reissued as a Sonic Super Special. Her intended death was emphasized in one of the random realities in issue #101.
Dispite the fact that Sally didn't originate from the games she has appeared on a large amount of SEGA merchandise.
Sally was the face of the now closed amusement park SEGA World's Sydney along with Sonic, Tails, Knuckles, and Dr. Robotnik. She also had a large role in the preformance Sonic Live in Sydney even having her own song (Sonic Thank You For Being You) and was the only charater from the comics to appear.
The energy blades Sally uses in the Post-Super Genesis Wave timeline bear strikingly similar properties to those of lightsabers in the Star Wars franchise.
According to Ian Flynn, Sonic and Sally's relationship status is "Just Friends". This is mostly due to the fact that he got tired of the shipping wars.
In Japan Sally also has a nickname Ricki (a squirrel like creature that appears in Sonic video games), the nickname itself never made it's way to America.
Appearance

Like many of the very early Westernized series character concepts, Sally's design was ultimately derived from that of the "animal friend" characters; specifically, Ricky the Squirrel. Her design went through numerous colour schemes earlier on (red and yellow, pink and black) before being finalized in sync with SatAM (which featured the pink and black design in the pilot episode). With these early designs, her cheeks were smooth and rounded, she sported a hairband of sorts, and her only attire consisted of a pair of blue boots with a white trim.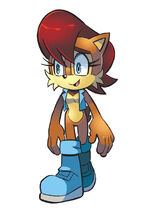 The general finalized design gave Sally brown fur (with light brown on the face and torso) as well as short, auburn hair, blue eyes, a short tail, and a short, open, light-blue vest and tall, matching blue boots (lacking the white trim). The alternate colour schemes were eventually retconned as a story element. Depending on the colourist, her fur and hair often range a variety of warm colours (her hair going anywhere from dark brown to bright red, though it's generally accepted as auburn). For several issues, her hair had been depicted as waist-length, but it eventually returned to its original short style. Some artists add a high collar to the vest or depict it worn closed.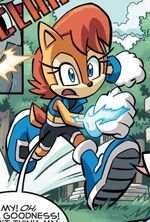 For a short time, Sally wore a headband. For more official functions, she's often depicted in some form of royal attire, including a heavy blue cape with white trim, scepters, crowns and tiaras, and even an ornate, winged mantle-like piece of gold and red. She has on occasion worn a white wedding gown, a rich purple dress with gold jewelry, and a light green slit skirt with matching sleeveless top and slippers (as well as a pink veil). When longer, her hair was sometimes styled in a fancy ponytail for special occasions. As a child, she was sometimes depicted as wearing a long shirt, sneakers and a blue/green bow (or two) in her hair, though more commonly the SatAM design was used: a green/blue quasi-Arabian-inspired outfit with curled slippers, and a jeweled, golden tiara set in her hair, which was bound in a long, segmented ponytail. For some missions, she's wore protective goggles. In Genesis, her typical design was largely unchanged, although it was somewhat simplified, losing the eyebrows.
Roboticized, Sally remains largely unchanged save for the obvious robotic appearance. However, as compared to artist Art Mawhinney's initial depiction, the design created by artist Ben Bates is more detailed and mechanical-looking. In the earlier design, her eyes became red on black, while in the newer depiction, they're blue on black.  Due to Eggman's modifications, she also received a new outfit, consisting of silver gauntlets and boots, black pauldrons, and a blue bodysuit with a white midsection.
Sally's current design was first revealed at New York Comic Con (NYCC) 2012.  She now has bigger eyes, rounded cheeks, a more rounded hairstyle, and a brand-new outfit strikingly similar to her Mecha Sally armor.  Her new clothes consist of a black, sleeveless crop-top and black shorts, both with white rimming, darker blue boots with white outlines on the buckles, and white gloves with blue bangles.  She retains her blue vest, but she now wears it closed and, like her boots, it is colored a slightly darker shade of blue than originally.  Her tan-colored underbelly also remains.