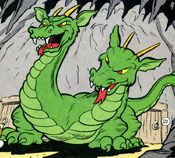 The Polysaurus Rex was a thought to be extinct two-headed dragon that guarded two doors in the Forbidden Zone. Described as a "bio-mechanical watchdog", one of its heads would always tell the truth, whilst the other would only tell lies, though it was impossible to discern which one told what beforehand. Sally Acorn encountered it whilst on her soul-quest from Julayla and was able to outsmart it. (IYF)
Ad blocker interference detected!
Wikia is a free-to-use site that makes money from advertising. We have a modified experience for viewers using ad blockers

Wikia is not accessible if you've made further modifications. Remove the custom ad blocker rule(s) and the page will load as expected.