This article is incomplete or has incomplete sections. You can help Mobius Encyclopaedia by expanding it.
Not to be confused with Eggman's invention, the Omni-Tool.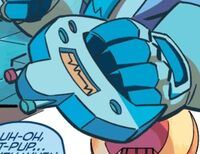 The Omnitool is an invention made by Rotor. He uses the invention when fixing the elevator to Twinkle Park, and cutting the ceiling doors on the Egg Train.(StH: #257, #258)
Background Information
In the invention's first appearance, StH #257, it was not named, and remained so until issue #258.
Appearance