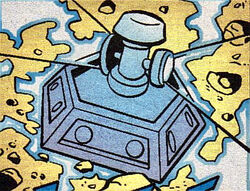 Neutralizing Mines are remotely activated devices created by Miles "Tails" Prower to deactivate various types of machinery. They were used to assist in capturing a piece of land outside the Eggdome for the Knothole Freedom Fighters and Chaotix to set up camp and make ready for their final battle with Dr. Eggman by deactivating the Dark Egg Legion's weapons, but then Eggman revealed his new weapon, the Egg Phoenix. Tails suggested that they use the mines on the Egg Phoenix to deactivate it, but due to its pyrotechnic capabilities, they couldn't touch the machine and place them on it. Sally then came up with a plan using Tails's idea. She had Vector the Crocodile throw Sonic up into the air while he was being chased by the Egg Phoenix, and would then be caught by Knuckles and would be thrown up to Tails, the young fox would do the same by passing Sonic up to Bunnie Rabbot and finally with the Egg Phoenix high enough, it stalled out and the fires were extuinguished allowing Saffron, Charmy and Ray to place the mines on the Egg Phoenix and letting Tails finish it off by activating the mines remotely when the Egg Phoenix was in range, causing it to crash and blow up. (StH: #198)
Ad blocker interference detected!
Wikia is a free-to-use site that makes money from advertising. We have a modified experience for viewers using ad blockers

Wikia is not accessible if you've made further modifications. Remove the custom ad blocker rule(s) and the page will load as expected.