Walter Naugus
Talk

9
2,394pages on
this wiki
Redirected from Naugus
This is the article about the evil wizard from Mobius Prime. You may be looking for the Dark Mobius version.
Walter "Wally" Naugus
Biographical information
Age 

Unknown

Alias 
Title 

Royal Wizard (formerly)
King of the Republic of Acorn

Species 

Mobian

Physical description
Gender

Male

Description

Fur: light brown
Hair: white
Eyes: red

Attire

Purple suit
Grey boots
Black cape
Grey gloves
Grey belt

Political Alignment and Abilities
Affiliation
Abilities

Control over the four elements
Shadow-melding
Omnipotence (only in Zone of Silence, formerly)
Emotional Manipulation/Amplification

Notable Super Forms

  
History
Powers & Abilities
Personality
Greedy beyond belief, Ixis Naugus is willing to go to any lengths to increase his own power. Incredibly vengeful, he never forgets being offended, and does his best to pay those who have done so back. Naugus is also partly if not completely insane, making him a dangerous and unpredictable opponent. His mental state has also made him relatively fearless, allowing him to insult his lessers or betters without qualm. The displays of immense ego and treachery are doubtless remnants of his three component personalities, whose own infighting nature led to Naugus' "birth."
As with many villains, he sees his minions only as pawns to use in his various schemes. In contrast and unlike most villains his level he shows little if any actual dignity, other than a few moments of grandiosity he is mostly a blunt person. He did show a great deal of respect for Mogul during their battle with the Freedom Fighters and Chaotix, though this was only after being trumped in every area and learning of Mogul's identity as the founder of his order. Following his escape from the Egg Grape Chamber, he was seemingly robbed of his intelligence, leaving only blind loyalty to Mogul. After his mind was rejuvenated by the purple Chaos Emerald, Naugus reverted to his old, boisterous self, and lost all loyalty to his former master given Mogul's use of him as a living shield.
Naugus apparently has a mutual dislike of robots, as implied during his face-offs with Titan Metal Sonic and Shard.
Relationships
Allies
Enemies
Background information
Ixis Naugus is (as is the case with most of the original cast) based on a character from the Sonic the Hedgehog cartoon often referred to as SatAM by fans. In the series, this character went only by "Naugus", and is an evil wizard trapped in the Void while exploring it because he was betrayed by Robotnik.
The late Ben Hurst, one of the leading writers on Sonic the Hedgehog, revealed that a shadowed figure featured in the final episode, "The Doomsday Project," was intended to be Naugus, who would have returned in the third season as a major antagonist had it not been for the series' cancellation.
After the Super Genesis Wave, Naugus has only been referred to as "Naugus" without the Ixis title. This is almost certainly due to Ken Penders introducing the word into comic lore. Of the SatAM characters reintroduced Post Super Genesis Wave, Naugus has also had the least amount of changes, the only alterations being a permanent tail and the new name of Walter.
Naugus is one of three SatAM characters to have their names added to/changed since the Worlds Collide crossover. His new name and dislike for the name Wally are likely a reference to the late Walter "Wally" Marsh, who provided a number of voices for Adventures of Sonic the Hedgehog. The other characters are Muttski-now Ben "The Mutt" Muttski-and Snively Robotnik-now Julian Snively. Interestingly, all three have had their names altered to reference DiC's Sonic the Hedgehog cartoons.
Naugus was one of several characters featured in a "classic cartoon" depiction art gallery in Sonic Super Special Magazine Issue 11, in which he was depicted in black and white as a magician with a wand and top hat.
Appearance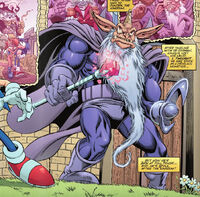 Ixis Naugus appears as a tall, gruesome Mobian with bat ears, a rhinoceros horn emerging from his forehead, a long white beard, and a gloved lobster claw in place of a left hand. Though his SatAM incarnation possessed a long tail, Naugus has never been depicted with this appendage until after the Worlds Collide event. In later issues, he possessed a muscular build. Occasionally, he is drawn with the wrong amount of fingers in his right hand.
In recent issues, the Order of Ixis spirits began to possess Ixis Naugus, which results in Naugus taking a more grotesque appearance. He grew a tail added spikes on his lobster claw, enlarged nails and other disfigured features on his face, skin and body.
He wears a suit that has been colored either purple or blue at various times, always with a long black cape, glove on his right hand, belt, and boots. After regaining his sanity via the purple Chaos Emerald, he has also been seen with a silver staff, with the powerful gemstone attached to one end by a Lobster-like claw. While king, he wore a crown, but after the alterations to reality he was not seen with it. He also gained a tail in his usual form as well.
Off-Panel
Naugus has appeared in a number of the Off-Panel strips featured in both Sonic the Hedgehog and Sonic Universe. In StH #244 he and Sonic are seen looking in terror at what appears to be the Death Egg Mark 2, but which turns out to be only a model of the flying fortress. In StH #229 he appears to mock the Knuckles and Amy of the "Genesis" reality, since that issue saw the return to the comic's previous continuity. He also appeared in StH #232 as one of the many threats Mighty the Armadillo imagined would come upon New Mobotropolis.
SU #35 found Naugus in a parody of his battle with the Battle Lord in the actual story: an "Ugliest Villain Contest" between the two of them. He next appeared in the strip for StH #234 as the latest being to emerge from "Tails' Magic Hat." SU #43 found Naugus undergoing his most hideous mutation yet: into a "handsome" version of himself. StH #241's strip found Naugus possessing Geoffrey's body, while his former apprentice's mind found itself watching a card game between Naugus' three component selves.