NICOLE the Holo-Lynx
Talk

30
2,425pages on
this wiki
Nicole redirects here. For other versions or uses of Nicole, see Nicole (disambiguation).
NICOLE the Holo-Lynx
Biographical information
Creator 
Title 
Model 

Hand held computer

Alias 

Nicole the Lynx

Physical description
Template
Description

Colour: Grey (as computer)
Fur: Brown (as projected Mobian)
Eyes: Green/blue (red-orange as Iron NICOLE)
Power Supply: Nanites (when in holographic form)
Psychological gender: female

Armaments

Can use nanites to form just about anything
Built-in laser (computer form only)

Political Alignment and Abilities
Affiliation
Abilities

Computer hacking
Holographic projection enabled by Power Ring
Advanced scanning abilities
Force field projection

Computer hacking
High intellect
Nanite manipulation within New Mobotropolis
Powerful central processing unit made from future technology
Sophisticated on-board sensors and defense mechanism
Ability to act as an energy conduit
Built-in laser (computer form only)
Virtual omnipotence within digital realms

  
History
Abilities
Personality
Romance
Background Information
In the Sonic the Hedgehog TV series Kath Soucie, NICOLE's voice actress also provided the voice for Sally Acorn.
Had canceled story ideas for plots after issue #134 come to pass, NICOLE would have entered into a romantic relationship with A.D.A.M. However, as A.D.A.M. was subsequently destroyed-and may never have existed in the reboot continuity-this development is impossible.
Fans question whether NICOLE's animal form was a bit of a joke, since she is a hand-held computer, and the "Lynx" was a hand-held game system.
NICOLE's name can be spelled in all capitals or like a normal name, as Ian Flynn has stated "I suppose if you wanted to make the distinction between the computer and the soul, you could say the computer was all-caps. But at this point I consider her a "normal" part of the cast, so it'd be "Nicole."" The Archie Sonic Wiki will keep it as "NICOLE" because of this reason.
NICOLE's present holographic form is comparable to the holograms seen in the Star Trek television series, which would fit with the comics' tendency to make references and parodies of various science-fiction genres. Her computer form is also reminiscent of the tricorders used in that series.
In Sonic Chronicles: The Dark Brotherhood, there is a device called the Med Emitter which bares a striking resemblance to NICOLE's computer form.
The way NICOLE's lynx body materializes from her handheld form in Sonic #256 is somewhat similar to the way a Pokémon emerges from its Poké Ball in the Pokémon TV series.
Ben Hurst, the late creator of the Sonic the Hedgehog animated series, apparently intended to reveal in the series' cancelled third season that NICOLE's animated series counterpart had been a living girl who was turned into a computer by Dr. Robotnik. However, this origin story is considered fairly dark, and the comics have never made use of it.
Appearance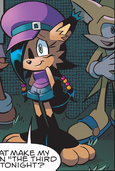 As a computer unit, NICOLE's design has been somewhat inconsistent. In general terms, the hand-held was relatively compact, grey in colour, and featured a flip-top, a screen, two buttons and a small keypad. However, the number of keys, shape, size and general positioning of the unit varied from artist to artist, ranging in appearance from a simple calculator to a small laptop computer.
NICOLE's simulated/projected body takes the form of a brown Mobian lynx; the ends of her ears, hands, and feet (unusually excluding the toes) are black, and her face features a stripe along the bridge of the nose as well as one under each eye. Her eyes are green (though often mis-coloured blue) and her black hair features longer sections adorned with purple and orange (sometimes pink) beads. She wears a single-shoulder purple wrap dress that flares out about knee-length. NICOLE's Mobian design was created by writer/artist Tania Del Rio; a minor character in the manga incarnation of Sabrina the Teenage Witch, also by Del Rio, features an almost identical design.
During her brief enslavement to the Iron Dominion, NICOLE (who was called "Iron NICOLE") had her avatar reconfigured; her hair was up in a bun with hairsticks, and she wore a high-collared black and purple dress with long purple gloves and a red belt. Her eyes became red-orange, but later reverted to their usual green as she regained her self-control. The basis for this design was created by writer Ian Flynn. On one occasion, NICOLE took on a casual look, featuring blue shorts, a purple tank top, and a purple hat with a blue band and buckle.
Following the alterations to reality, NICOLE was amongst the characters whose design underwent a few alterations in terms of wardrobe. Her toga became a shoulder-less, sleeveless dress with split tails, decorated with a small broach. She also gained black pants, white gloves, and shoes, the gloves featuring round gold cuffs while the shoes had silver cuffs and toes.  She also gained a new hairstyle, wearing her hair down instead of in braids.
Alternate Name and Origin
In the fifth Sonic Archives graphic novel, it featured a lost never before seen story which featured a different origin for NICOLE. In the story, Robotnik had restored the Universalamander robot to once again attack the Freedom Fighters. While Rotor and Sally were trying to figure out a way to stop it, Sally pulls out a box shaped device called the "NICOLE 7000", saying that she "ordered" it and "it just came yesterday". (1) This unpublished story was in the early comedic style that the comic series had, similar to the Adventures of Sonic the Hedgehog cartoon, before taking on a more serious tone similar to the Saturday morning Sonic the Hedgehog TV series. Thus, this introduction for NICOLE should be considered little more than a simple joke with little regard for serious continuity and non-canon to the main comic.