Get the latest scoop about what's new at Mobius Encyclopaedia! This page is used by the administrators to post relevant announcements.
April 2008
We now have a new and unique site logo! Special thanks go out to Cameron Allen for designing and creating the new logo!

Sonic News Network is a wikia with the goal of becoming a vast, knowledgeable source for all things about Sonic. It is also the gamer's guide to the Sonic the Hedgehog series. Sonic News Network began September 2005 and as of April 20, 2008, consists of 469 articles!
May 2008
Congratulations to Wiriamu. Due to his significant contributions and level of activity on the site, he has been made an administrator - May 16
May 2009
We have a new logo! -
Dimitri the Echidna
05:48, 25 May 2009 (UTC)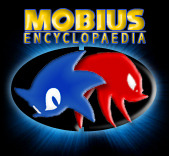 Ad blocker interference detected!
Wikia is a free-to-use site that makes money from advertising. We have a modified experience for viewers using ad blockers

Wikia is not accessible if you've made further modifications. Remove the custom ad blocker rule(s) and the page will load as expected.