This article is on the main planet Mobius located in the Prime Zone; for other versions see Zones. This world was known as Earth in the Pre-Super Genesis Wave Timeline; you may be looking for Earth 20XX.
History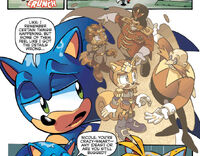 Sonic's world has experienced two separate timelines with differing histories. The current timeline was brought about due to a phenomenon known as the Genesis Wave: in the original Prime Zone timeline, Dr. Eggman launched this reality-changing wave twice, within a few weeks of each other, during the year 3237. While the first instance was reversed by Super Sonic with no noticeable ill-effects, the second instance would in fact mark the end of that timeline, as during the period in which the planet was reset, the super-powered "Super Genesis Wave" was launched, which, if pulled off successfully (which it wasn't, thanks to Sonic and Mega Man), would reshape the world in Dr. Eggman's image. Super Sonic's attempt to reverse this highly delicate process was disrupted by Eggman, and this resulted in all of reality being altered into the timeline seen now.
Mobius Timeline Gallery
Main Locations
Measurements
Please note that these all apply only to the Pre-Super Genesis Wave continuity.
Weight: Measured in Stone (1 Stone = approximately 6.35 Kg or 14 lbs)
Height: Measured in Marks (1 Mark = approximately 1.4 cm or a little over 1/2 inch)
Month/Day Calculations: This is to be applied when looking at a characters profile. For example: if a character was born Day of birth: 162, that would work out to June 11. Since each Mobius year is 365 days, each month coresponds wer a certain set of numbers as seen below:

January- 1 through 31
February- 32 through 59
March- 60 through 90
April- 91 through 120
May- 121 through 151
June- 152 through 181
July- 182 through 212
August- 213 through 243
September- 244 through 273
October- 274 through 304
November- 305 through 334
December- 335 through 365
Background Information