This article is on the main planet Mobius located in the Prime Zone; for other versions see Zones. This world was known as Earth in the Pre-Super Genesis Wave Timeline; you may be looking for Earth 20XX.
History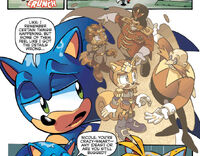 Mobius has experienced two separate timelines with differing histories. The current timeline was brought about due to a phenomenon known as the Genesis Wave: in the original Prime Zone timeline, Dr. Eggman launched this reality-changing wave twice, within a few weeks of each other, during the year 3237. While the first instance was reversed by Super Sonic with no noticeable ill-effects, the second instance would in fact mark the end of that timeline, as during the period in which the planet was reset, the super-powered "Super Genesis Wave" was launched, which, if pulled off successfully, would reshape the world in Dr. Eggman's image. Super Sonic's attempt to reverse this highly delicate process was disrupted by Eggman, and this resulted in all of reality being altered into the timeline seen now.
Mobius Timeline Gallery
Main Locations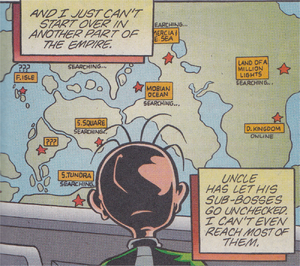 Measurements
Weight: Measured in Stone (1 Stone = approximately 6.35 Kg or 14 lbs)
Height: Measured in Marks (1 Mark = approximately 1.4 cm or a little over 1/2 inch)
Month/Day Calculations: This is to be applied when looking at a characters profile. For example: if a character was born Day of birth: 162, that would work out to June 11. Since each Mobius year is 365 days, each month coresponds wer a certain set of numbers as seen below:

January- 1 through 31
February- 32 through 59
March- 60 through 90
April- 91 through 120
May- 121 through 151
June- 152 through 181
July- 182 through 212
August- 213 through 243
September- 244 through 273
October- 274 through 304
November- 305 through 334
December- 335 through 365
Background Information
In recent issues, the book seems to be going to great lengths to avoid refering to the planet as Mobius. Most notably, the heading at the start of each issue, which originally began with "Welcome to the planet Mobius" has since been changed to "Welcome to Sonic's comic book adventures", and other instances where the planet's name would usually be mentioned is changed to simply "Sonic's World" instead. A recent post by Ian Flynn revealed that a SEGA mandate has stated that Sonic's world cannot be named, thus the name "Mobius" has been dropped. The reason is unknown, as is whether Mobius is still the name of the planet in universe.

Despite this change, other names that make reference to the planet's name, such as New Mobotropolis, are still retained.

The first map of Mobius shown in SSS #2 showed the "Land of a Million Lights" to be located in the "South Africa" part of the planet. However, the map shown in StH #194 located it where the Lethal Radioactive Zone from the first map was. The new map also listed Station Square in the location the Mysterious Cat Country was located on the older map, instead of just being located nearby. It is unknown if these were retcons or simply mistakes.

Oddly enough, most of the game-related zones mentioned or shown in the comics remain unspecified on either maps. Among them are Bingo Highway and Frog Forest from Sonic Heroes, Wild Canyon from Sonic Adventure 2, Sky Canyon from Sonic Advance 2, Club Rouge and Holy Summit (misspelled Holly Summit) from Sonic Battle, Windy Valley and Red Mountain from Sonic Adventure, and South Island from the classic titles.

The name Mobius may may be a reference to a shape known as the Möbius strip, a shape with no clear start or end that appears to have multiple sides, when in fact there is only one. This could be intended as a reference to the cyclical nature of species dominance on this alternate Earth / Mobius.
The name Moebius, which refers to the alternate version of Mobius from which Scourge hails, may be based off of Möbius syndrome, which is also spelled Moebius, an extremely rare congenital neurological disorder which is characterized by facial paralysis and the inability to move the eyes from side to side. This description could arguably characterize the distorted personas of Scourge and his Supression Squad as well.
According to a post by Ian Flynn, only three video games have not occured in the post-Super Genesis Wave world: Sonic Unleashed (as that is the current storyline), Sonic Lost World (which Ian says that he wants to deal with, but he can take his time to get there), and Sonic Chronicles: The Dark Brotherhood (due to the ongoing litigation with Ken Penders and the fact that, storywise, it takes place two years into the future). Thus, unless contridicted in-story, it can be assumed that all video games are canon to the post-Super Genesis Wave world. This has been proven true as Sonic the Hedgehog #268 does an adaptation of Sonic the Fighters, one of the earlier games released in the Sonic game canon.
Year
The exact date of the Mobian calendar is unknown, but by day counting from Sonic's last birthday in StH: #160 , the first Genesis Wave was launched on day 184, 3237, and the second about nine days later. While it would have been 3238 had Sonic spent a full year in space, StH: #155 had Tails state he was still eleven, and in StH: #157 Dr. Eggman's computer monitor clearly showed the year as 3237.
It is unknown what year the early Sonic issues take place. However, StH #188 established that Sonic was eight-years-old when he first fought against the Super Special Sonic Search and Smash Squad, placing issues with them at 3228, but Tails would have been three and not old enough to be a freedom fighter. It is known that Dr. Robotnik was defeated in 3235 as he was said for have ruled for ten years, and the year 3236 came into being some time before StH #69, as Sonic officially turned 16 then. With the following information in mind, here is a rough estimate of what issues take place in what year:

Unknown: StH: #1 — #24
3235: StH: #25 — #57
3236: StH: #58 — #125
3237: StH: #130 — #247

As of StH #148 (Mobian year 3237), Ivan Kintobor was born 12,010 years, 11 months, and two weeks ago, in the Earth calendar date June 6, 2006, putting Mobius' date at May 20, 14,017 CE.
It's currently unknown whether the date system still applies to the altered post-Super Genesis Wave universe.