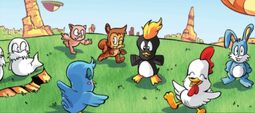 Mobini are wildlife creatures native to Sonic's World and related worlds.
List of Known Mobinis
One of the most well known Mobini is the Flicky bird, which comes in a variety of species seen across the planet.
Amphibians
Birds
Chicken - Clucky
Bald Eagle - Locky
Penguin - Pecky
Insects
Mammals
Bear - Becky
Pig - Picky
Rabbit - Pocky
Chipmunk - Ricky
Walrus - Rocky
Monkey - Wocky
Reptiles
Trivia
Despite being categorized as non-sapient, certain Mobini have proven themselves to be self-aware and highly intellectual.
Ad blocker interference detected!
Wikia is a free-to-use site that makes money from advertising. We have a modified experience for viewers using ad blockers

Wikia is not accessible if you've made further modifications. Remove the custom ad blocker rule(s) and the page will load as expected.