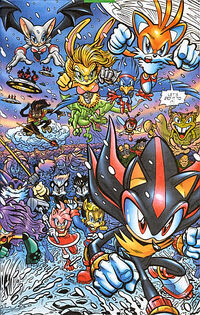 The native inhabitants of Mobius, known collectively as Mobians, are divided into a number of different races and exist in a number of different realities.
Races
Below is a list of known Mobian species with accompanying representatives (where named):
Prime Zone
Cnidarians
Molluscs
Crustaceans
Arachnids
Fish
Amphibians
Reptile
Bird - Speedy
Mammal

Carnivorans
Cetaceans
Cingulates (Armadillos)
Chiropters (Bats) - Rouge
Eulipotyphlan
Lagomorphs
Marsupial
Monotremes
Primates
Proboscideans

Mammoth - Mogul (only one specimen remaining)

Rodents
Ungulates

Even-toed ungulate
Odd-toed Ungulates

Unknown
Background Information
Ian Flynn has said that he considers all Mobians to be the same species, with each 'animal' simply acting as a different race. However, it is noticeable that certain variants of Mobian are drastically different from each other in terms of size and other traits.
Ad blocker interference detected!
Wikia is a free-to-use site that makes money from advertising. We have a modified experience for viewers using ad blockers

Wikia is not accessible if you've made further modifications. Remove the custom ad blocker rule(s) and the page will load as expected.