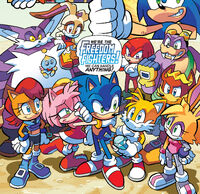 The native inhabitants of Sonic's World, known collectively as Mobians, are divided into a number of different races and exist in a number of different realities.
Races
Below is a list of known Mobian species with accompanying representatives (where named):
Prime Zone
Cnidarian
Mollusc
Crustacean
Insect
Fish

Bony Fish
Cartilaginous Fish

Reptile
Bird - Speedy
Mammal

Afrosoricid
Armadillo - Mighty
Bat - Rouge
Carnivorans
Cetaceans
Eulipotyphlan
Lagomorph
Marsupial
Monotreme
Pilosan
Primate
Rodents
Ungulate
Reptile
Mammal

Carnivoran
Eulipotyplan
Monotreme
Primate
Rodent
Ungulate
Background Information
Ian Flynn has said that he considers all Mobians to be the same species, with each 'animal' simply acting as a different race. However, it is noticeable that certain variants of Mobian are drastically different from each other in terms of size and other traits.
Ad blocker interference detected!
Wikia is a free-to-use site that makes money from advertising. We have a modified experience for viewers using ad blockers

Wikia is not accessible if you've made further modifications. Remove the custom ad blocker rule(s) and the page will load as expected.