Knuckles the Echidna
Talk

11
2,402pages on
this wiki
Knuckles redirects here. For other versions or uses of Knuckles, see Knuckles (disambiguation)
Knuckles the Echidna
Biographical information
Age 

17 (Born on day 251, 3220)

Relatives 
Alias 

Knux
Last Guardian of the Master Emerald

Sir Knuckles of the House of Edmund
Avatar
Enerjak (formerly)

Title 
Species 

Mobian/Echidna

Physical description
Gender

Male

Description

Height: 72 marks
Weight: 7.7 stone
Fur: Red
Eyes: Purple
Skin: Peach
White crest on chest

Attire

Durable shoes
white gloves
Air Necklace
Shovel Claw

Political Alignment and Abilities
Affiliation
Abilities
Notable Super Forms

  
History
Abilities
Knuckles is one of the strongest figures on Mobius due to his combat training at a young age and his chaos powers. His brute strength is his equivalent to Sonic's speed. His extraordinary physical strength enables him to perform feats such as shattering boulders with his fists and digging underground. Knuckles is also a well-trained fighter with a specialty in punching due to the claws on his knuckles, though other Mobians-notably Sally and Espio-have demonstrated martial skills rivaling if not superior to his own.. He is also able to glide by using a mixture of his Chaos powers and catching wind currents under his dreadlocks. Due to having altered DNA from his father's genetic experiments, Knuckles has strength far beyond that of an average Mobian. Through unknown means, he is also capable of detecting Chameleons, namely Espio, while they are invisible.
In addition, exposure to a Chaos Emerald's radiation while still in his egg, combined with the DNA of his Guardian predecessors, has given Knuckles Chaos abilities far beyond that of almost any being on Mobius. Among the powers Knuckles has been granted by these energies are the ability to rapidly recover from any injury, the power to open portals to other places, the ability to generate matter from thin air, and various others. Following his return from the afterlife, these powers remained dormant briefly, but were eventually reawakened when he was exposed to the Master Emerald once again for a long enough time. Like all Guardians, he possesses the ability to channel the Master Emerald's energy in battle, as used in his battle against Dr. Finitevus. He can utilize these powers in a variety of ways, such as Thunder Arrow. (SU: #12)
Like Sonic and Tails, Knuckles has several powered-up forms. His initial transformation is known as Hyper Knuckles and is seen numerous times throughout the series. Other forms of his include the induced and semi-permanent (would have been permanent if not for his death) persona of Chaos Knuckles, and also his brief tenure as the fourth incarnation of Enerjak.
In the Post-Super Genesis Wave World it is unknown to what extent Knuckles' powers are. He is still incredibly strong and can glide, so far as to carry Team Chaotix via special rings while gliding. He also has the ability to sense Chaos Emeralds via the energy they put off.
Romance
Relationships
Allies
Enemies
Personality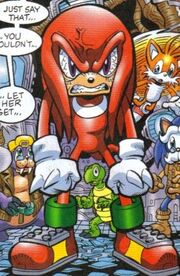 Knuckles is honest, independent, headstrong and devoted to his duty. He is very serious and usually likes to be by himself, but can be relied upon to help out whenever the planet needs saving. At times he seems jealous of the freedom that Sonic has, but is always ready to help his friends when needed. He also maintains close ties to his friends and family, though at times such relationships are tense. (StH: #39, #125, KtE: #16)
Knuckles also faces a number of problems. From day one, Knuckles has lived a life different from that of any normal Mobian, having been raised as the Guardian of Angel Island. Recently he has been linked to an ancient prophecy that says he will help save the world, hailed by the surviving Echidnas as the "Avatar" despite his disbelief in the prophecy. The strain of this responsibility has taken its toll on him through the years, though he only shows it in moments of extreme duress. (StH: #138)
Despite these setbacks, Knuckles remains stalwart. For a time, he was incredibly depressed, having lost his enhanced abilities and his homeland upon returning from the afterlife. Upon regaining both, he realized that Mobius as a whole needed him more than Angel Island, and he dedicated himself to protecting the entire planet. This has led him to clash with his father on numerous occasions, but he remains vigilant with the support of his friends. For all of his conviction, however, Knuckles remains strongly attached to his people, and this proved to be his downfall when Finitevus told him of the destruction of 90% of the Echidna race, allowing him to fall victim to the mad doctor's influence as the new Enerjak. Knuckles is not that much unlike Sonic: he is cocky and big-mouthed, with a lot of a wise-cracks (as well as arrogance). He also is all too willing to use his fists and loathes Eggman with a passion. Over time he has learned to not trust everyone at first, and has discarded his gullibility. Unfortunately, he also has a strong temper that often leads him to rash action, and he usually reacts with anger when faced with difficult situations. (StH: #125, #165, #181, #182)
Although he and Sonic have fought from time to time, there is an undercurrent of mutual understanding between the two. Their mutual antagonism has grown into a sort of playful rivalry, and the two often enjoy ribbing each other good-naturedly. Ever since the introduction of Shadow the Hedgehog as one of Sonic's darker, more anti-heroic rivals, Knuckles' relationship with Sonic has seen as much more friendly by comparison. (StH: #13, SaK)
Background Information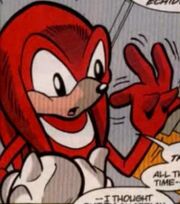 Knuckles' story in the Archie Sonic canon is rather infamous for being the most drastically different from his background in the games than any other canon. In the games, Knuckles is known to literally be the last of his kind, living a solitary life guarding the Master Emerald on Angel Island. Knuckles past and people had only ever been explored twice in game canon: the Knuckles Clan, including Tikal and Chaos, where first seen in Sonic Adventure, while the Nocturnus Clan, revealed to be living in the Twilight Cage, where first seen in Sonic Chronicles: the Dark Brotherhood.
In KtE #25, Knuckles took off his glove revealing a red echidna hand with spikes on his knuckles, much like his glove and is the first echidna to have spikes on his hands.
Knuckles is the only Guardian known to have undergone a super transformation or to be capable of doing so.
A family tree for Knuckles and Julie-Su was provided in StH #109. The family tree did not list either Byron or Angel-La, the parents of Dimitri and Edmund. Remington was also not mentioned, though the family tree did point out the son of Kragok was with someone already in the comics. A completed family tree was later provided in The Complete Sonic Comic Encyclopedia.
Prototype storyline for issues after StH #134 would have featured Knuckles refusing to remain on Angel Island because his presence caused the Master Emerald to put off more energy, making it easily detectable to villains, rather than his decision that his Guardian duties included the entire planet of Mobius. However, instead of remaining in Knothole with the Freedom Fighters and other Chaotix, he set off on a world tour to learn martial arts, eventually apprenticing himself to Monkey Khan. Khan's dojo would have turned out to be built atop the hiding place of a powerful jewel known as the Master Geode, which would have been targeted by Robotnik, the Iron Queen, and Mammoth Mogul. Knuckles was intended to become a pawn of the Iron Queen's placed under an evil spell and pitted against the Robotnik-controlled Khan. Eventually, he would have become temporarily omnipotent due to a reaction to the Master Geode, which ended up being fragmented and scattered across Mobius. In continuing his journey, Knuckles would have absorbed energy from these fragments, but the plot line was never implemented.
The creators of the comic have previously stated that Knuckles and Julie-Su will never have an actual marriage in the comics, as a result of Knuckles being a top tier SegaSonic character and thus unable to be tied down to any one character. However, several possible futures have been shown where the two live or have lived together, but are bound by commitment rather than legality. These futures have also featured the pair having a daughter named Lara-Su, though one version later changed her name to Jani-Ca. The future of 3437 P.X.E. has featured a descendant of Knuckles' named Edmund, who is possibly Knuckles' grandson and the son of some version of Lara-Su; Lara-Su is also featured in artwork from this future. A comment by Edmund suggested that a version of Argyle the Crocodile may be his father, meaning that Vector and Knuckles would be his grandfathers.
These same futures have also both featured Knuckles losing control of his Chaos powers and going on a rampage, much as he did when his power was overloaded by Dr. Finitevus. However, while one version of him was restored to normal by Sonic's efforts, the other went on to become a malevolent Dark Enerjak.
The fact that Chaos Knuckles changes his fur color from red to green may be a reference to the fact that Knuckles, when still in the early design stages, was originally green.
Knuckles was the first character—in his personae of Chaos Knuckles and Enerjak— to be shown capable of reverting characters with cybernetics back to their fully organic form. Ixis Naugus later joined this category after accidentally transforming Bunnie D'Coolette back into a fully organic form.
As a result of the Endangered Species storyline, Knuckles was left one of only three Echidnas known to remain on Mobius Prime, the others being Dr. Finitevus and Dimitri. Mari-An and her son Jon were not captured by Thrash, but their fate remains unknown.
As a result of the reboot done in STH #252, Ian Flynn has confirmed that the established history of Knuckles is no longer canon. He's also expressed relief at not having his history being the "Hot Pocket of Destiny".
Prior to the reboot, the various Sonic Adventure 2 adaptations featured in the comic didn't feature Knuckles, despite his fairly prominent role in the story of the game. However, following the reboot, it is assumed that Knuckles' participation was the same as in the actual game.
Appearance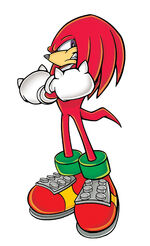 Knuckles is a red echidna with purple eyes. He bears a white crescent mark on his chest, a trait tied to his station as Guardian. Officially, he's slightly taller than Sonic. He wears white mitt-like gloves and has two spiked knuckle-claws on each hand. He wears green, yellow and red footwear with a metal "Lego" plate atop each shoe. Like many characters in the comic, he initially was given light-blue eyes before SEGA established his eye color as purple.
For several issues, as a result of Chaos-related powers going awry, his fur and eyes were green. He possesses a brown hat with a star-design on the hatband, though he's rarely worn it. He's also occasionally worn sunglasses and an air necklace. As an incarnation of Enerjak he wore golden armor with blue fabric connecting the various pieces. He's been depicted in a black Dark Legion robe and, for Antoine and Bunnie's wedding, wore tribal echidna attire, tan with a green-and-grey trim and taller boots.
Due to his popularity-and his traditional rivalry with Sonic-Knuckles was featured in many of the early Sonic the Hedgehog Off-Panel strips. Some of his antics included "Sonic Spy vs. Knuckles Spy," a parody of MAD's Spy vs. Spy in which he and Sonic would make various attempts at inflicting pain on each other.
Knuckles appeared in the first Off-Panel for Sonic Universe, in which he expressed excitement about having a second comic for the first time since the cancellation of his own series, only to be informed that the series would revolve through focusing on different characters and that his first arc wouldn't begin until SU #9. He also appeared in SU #2's Off-Panel, where he questioned why he wasn't included in the issue given that it was an adaptation of Sonic Adventure 2. SU #8's second Off-Panel found him interrupting King Sonic and Silver the Hedgehog in the midst of their discussion about the possibility of revisiting possible futures to remind them that his story was up next.