Knuckles redirects here. For other versions or uses of Knuckles, see Knuckles (disambiguation)
Knuckles the Echidna
First Appearance
Issue
Biographical information
Age 

17 (Born on day 251, 3220)

Relatives 
Alias 

Knux
Last Guardian of the Master Emerald

Sir Knuckles of the House of Edmund
Avatar
Enerjak (formerly)

Title 
Species 

Mobian/Echidna

Physical description
Gender

Male

Description

Height: 110cm
Weight: 40kg

Height: 72 marks
Weight: 7.7 stone

Fur: Red
Eyes: Purple
Skin: Peach
White crest on chest

Attire

Durable shoes
white gloves
Air Necklace
Shovel Claw

Political Alignment and Abilities
Affiliation
Abilities
Notable Super Forms

  
History
Abilities
Romance
Relationships
Personality
Background Information
Appearance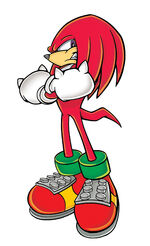 Knuckles is a red echidna with purple eyes. He bears a white crescent mark on his chest, a trait tied-in the original continuity-to his station as Guardian. Officially, he's slightly taller than Sonic. He wears white gloves similar to boxing gloves and has two spiked knuckle-claws on each hand. He wears green, yellow and red footwear with a metal "Lego" plate atop each shoe. Like many characters in the comic, he initially was given light-blue eyes before SEGA established his eye color as purple.
For several issues, as a result of Chaos-related powers going awry, his fur and eyes were green. He possesses a brown hat with a star-design on the hatband, though he's rarely worn it. He's also occasionally worn sunglasses and an air necklace. As an incarnation of Enerjak he wore golden armor with blue fabric connecting the various pieces. He's been depicted in a black Dark Legion robe and, for Antoine and Bunnie's wedding, wore tribal echidna attire, tan with a green-and-grey trim and taller boots.
Due to his popularity-and his traditional rivalry with Sonic-Knuckles was featured in many of the early Sonic the Hedgehog Off-Panel strips. Some of his antics included "Sonic Spy vs. Knuckles Spy," a parody of MAD's Spy vs. Spy in which he and Sonic would make various attempts at inflicting pain on each other.
Knuckles appeared in the first Off-Panel for Sonic Universe, in which he expressed excitement about having a second comic for the first time since the cancellation of his own series, only to be informed that the series would revolve through focusing on different characters and that his first arc wouldn't begin until SU #9. He also appeared in SU #2's Off-Panel, where he questioned why he wasn't included in the issue given that it was an adaptation of Sonic Adventure 2. SU #8's second Off-Panel found him interrupting King Sonic and Silver the Hedgehog in the midst of their discussion about the possibility of revisiting possible futures to remind them that his story was up next.