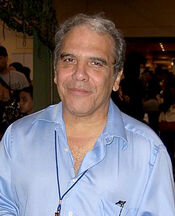 Jim Valentino is a former artist for Archie Sonic the Hedgehog. Well known for chronicling the adventures of Marvel Comics team Guardians of the Galaxy and creating the Image super hero ShadowHawk, he currently continues his work for Image Comics, the company he helped create. Most of Valentino's Image titles are published under his Shadowline imprint, although he also served as publisher for all of Image from 1999 to 2004. He has also produced numerous autobiographical comics and created the satirical superhero series normalman.
Credits
Ad blocker interference detected!
Wikia is a free-to-use site that makes money from advertising. We have a modified experience for viewers using ad blockers

Wikia is not accessible if you've made further modifications. Remove the custom ad blocker rule(s) and the page will load as expected.