This article is incomplete or has incomplete sections. You can help Mobius Encyclopaedia by expanding it.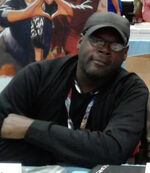 Jamal Peppers is an artist who has contributed to several Archie Sonic the Hedgehog issues, the 2012 and 2015 Free Comic Specials, Sonic Boom #7, and Sonic Universe 78. Peppers states that the one thing he loves about his job is being able to meet many Sonic fans and play Sonic games since he understands how the series works.
Ad blocker interference detected!
Wikia is a free-to-use site that makes money from advertising. We have a modified experience for viewers using ad blockers

Wikia is not accessible if you've made further modifications. Remove the custom ad blocker rule(s) and the page will load as expected.