This article is incomplete or has incomplete sections. You can help Mobius Encyclopaedia by expanding it.
For more info on the series outside Worlds Unite, see the Ghosts 'n Goblins Wiki.
Ghosts 'n Goblins is a video game series created by Capcom that was featured in the Worlds Unite crossover event.
Characters and Concepts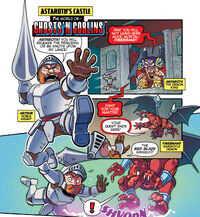 Heroes
Villains
Locations
History
Worlds Unite
Background Information