For specific groups of Freedom Fighters, see Freedom Fighters (disambiguation).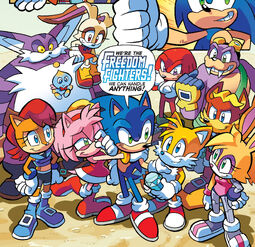 The Freedom Fighters are a series of resistance groups created to oppose the tyranny of the Eggman Empire.
Known Groups
Active
Tactics
Freedom Fighters typically act as individual cells, though they have sometimes worked together on missions. It has been rare for any group to have more than a dozen members. Typically, they prefer to use espionage, sabotage and guerrilla warfare. However, the primary Freedom Fighters in particular have been known to stage frontal assaults periodically, and have at times enlisted other Freedom Fighter groups in such action as well.
Background Information
The new reality saw the return of the Knothole Freedom Fighters (now known as simply the "Freedom Fighters") as well as the Wolf Pack. At least one of the former Mercia Freedom Fighters also returned as a member of the Woodland Kingsmen.
Most, if not all of the Freedom Fighter groups in the new timeline besides the main Freedom Fighters seem to go under specific names other than just "[area] Freedom Fighters".
Ad blocker interference detected!
Wikia is a free-to-use site that makes money from advertising. We have a modified experience for viewers using ad blockers

Wikia is not accessible if you've made further modifications. Remove the custom ad blocker rule(s) and the page will load as expected.