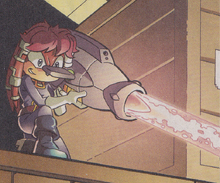 The Experimental Dark Legion Weapon was a highly unstable weapon that Kragok created and provided Lien-Da with for her assassination of Luger. The weapon was designed to "atomized" its target, leaving no trace of the victim, though in a worst-case scenario it would appear to be a Zoah attack. Equipped with a scope for long-distance targeting, it was used successfully to atomize Luger from afar, but exploded shortly after being fired, severely injuring Lien-Da. (StH: #205)
Ad blocker interference detected!
Wikia is a free-to-use site that makes money from advertising. We have a modified experience for viewers using ad blockers

Wikia is not accessible if you've made further modifications. Remove the custom ad blocker rule(s) and the page will load as expected.