Not to be confused with the D-1000 of Earth 21XX.
E-1000
First Appearance
Biographical information
Produced 

3236

Creator 
Variants 
Alias 
Physical description
Template
Armaments
Political Alignment and Abilities
Affiliation

  
The E-1000 was a mass-produced variant of the E-100 Series robots, armed with two arm cannons.
History
Pyramid Defense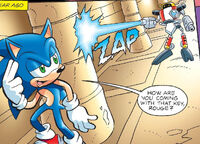 Some E-1000 robots were used to defend the pyramid base of Dr. Eggman, though they proved ineffective against Sonic the Hedgehog. (SU: #2)
Ad blocker interference detected!
Wikia is a free-to-use site that makes money from advertising. We have a modified experience for viewers using ad blockers

Wikia is not accessible if you've made further modifications. Remove the custom ad blocker rule(s) and the page will load as expected.