Ad blocker interference detected!
Wikia is a free-to-use site that makes money from advertising. We have a modified experience for viewers using ad blockers

Wikia is not accessible if you've made further modifications. Remove the custom ad blocker rule(s) and the page will load as expected.
You may be looking for Crystal Cave, Crystal Man, the Crystal Desert Zone, or Crystal Snail.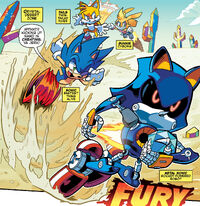 Crystal Desert Zone is a region of the planet Mobius so-called because of the crystalline rock formations that dot its arid landscape.
History
After acquiring the last of the seven Chaos Emeralds sought after by the Knothole Freedom Fighters and the Eggman Empire, a G.U.N. unit traveled to this area while on their way to meet with the heroes. Unfortunately, their cargo and location were made known to Metal Sonic, who attacked them and seized the Emerald after a brave but futile stand by the G.U.N. troops. The Freedom Fighters subsequently arrived and sent Sonic the Hedgehog, Miles "Tails" Prower, and Bunnie Rabbot-D'Coolette after Metal Sonic while the rest of the team attended to the wounded. The pursuit of Metal Sonic through this Zone abruptly halted when he and Sonic traveled through a Genesis Portal that then closed behind them due to the efforts of Silver the Hedgehog. Fortunately, Sonic was able to claim the Emerald and make his way back to rendezvous with his team. (SU: #75)
Background Information