Bunnie Rabbot-D'Coolette
Talk

54
2,581pages on
this wiki
Bunnie redirects here. For other versions or uses of Bunnie, see Bunnie (disambiguation).
You may be looking Bunnie's Anti-Mobius counterpart, Buns Rabbot.
Bunnie D'Coolette the Rabbot
First Appearance
Issue
Biographical information
Age 
Relatives 
Alias 

Bunnie Rabbot (pronounced RAH-bot; Freedom Fighter name)
Buns (childhood nickname)
Bunnie Rabbot (pronounced rah-BOH; maiden name)
Kommissar Bunnie D'Coolette (Dark Egg Legionnaire alias)
Scarlett (Egg Soldier alias)

Species 

Mobian/Rabbit

Physical description
Gender

Female

Description

Fur: Yellow and white
Eyes: Green
Ponytail

Attire

Legs and left arm robotic
Cowboy hat and jacket
Pistol belt with revolvers
Pink leotard
Denim shorts (following De-Roboticization)
"Daisy Duke" shorts (occasional)
Sleeveless spotted shirt (occasional)

Political Alignment and Abilities
Affiliation
Abilities

Super strength
Built-in Arm Cannon
Extendable arm and legs
Martial arts knowledge
Booster rockets in legs for self-propelled flight
Forcefield generator

  
History
Personality
Abilities
Romance
Appearance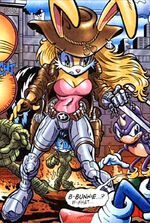 In SatAM, Bunnie was depicted in brown tones, wearing a violet leotard and having only three digits total on her robotic hand. In the comics, her muzzle became white and her brown gradually lightened to orange and, eventually, pale yellow, while her robotic hand gained a more normal structure. Her roboticization was extended to part of her torso and her roboticized parts are sometimes forgotten. Her eyelids (as well as around the eyes themselves) are generally violet or pink. As with many characters, her eyes were initially coloured pale blue but were later established as green as they were in SatAM. Depending on the artist, her tail is either depicted as a metal ball, a white cottontail puff, or a general short tuft. Her left ear is often flopped, though this is not a constant feature. An early piece of comic art included her before her character was actually introduced; here she was depicted with a colour scheme and general design somewhat different than what came to be used.
Eventually her robotic parts were replaced with sleeker, more modern versions. Her hair, starting off as a tuft of bangs, grew to shoulder-length, and then down to her waist; more recently she ties it back in a single, long braid or ponytail. Her general attire consists of a pink sleeveless shirt. She has occasionally been depicted in a pink summer dress, and for a few issues sported a red polka-dot sleeveless shirt paired with cutoff jean shorts, reminiscent of the character Daisy Duke from The Dukes of Hazzard. In addition to the pink shirt, she began wearing a brown jacket, pistol belt with twin revolvers (though she never uses the revolvers, relying on her cybernetics instead), a cowboy hat, and fingerless gloves, though she does not always wear them all together. For her wedding, she wore a beautiful white gown with silver trim and lacing up the back with a single white glove; her hair was done in an updo and accented with a tiara. Affected by crystalline magic, her clothing and robotic parts became green crystal. Other outfit variations include a purple backpack and a pink sunhat adorned with a bow, a purple jacket, a green swimsuit top, a flower-print shirt and straw hat, and a pink robe. On occasion she is depicted with whiskers. While not always remembered by the artists, her wedding ring is sometimes visible.
Since being restored to a fully organic form, Bunnie still wore her pink top with a brown jacket and matching cowboy hat, as well as her belt. She also began wearing denim shorts, but her look changed drastically after reality was altered. Bunnie began sporting a ponytail, gloves, and new robotics for her left arm and both legs, and she also wears a pink singlet somewhat reminiscent of her SatAM outfit.
Background Information
Bunnie has appeared in a number of the Sonic the Hedgehog and Sonic Universe Off Panel humor strips.
StH #252 featured Bunnie as one of several characters left in unfortunate circumstances prior to the crossover that would have been addressed if reality had not been altered, with a sign covering everything below her head with the question "Cyborg Parts?" written on it. She later appeared in StH #268's strip in a game based on Sonic the Fighters being played by Scratch and Grounder, which saw her being played by one of them against the other's Blaze the Cat.