This article is incomplete or has incomplete sections. You can help Mobius Encyclopaedia by expanding it.
"
With Breeze Media, everybody can be a winner!
"

–Breeze Media's trademarked slogan.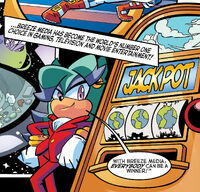 Breeze Media is an entertainment network founded, owned, and maintained by Breezie the Hedgehog, with its capitol in Casino Park. It's properties include BreezTV, a network that advertises its various products and services, and its own pay-per-view channel, which Dr. Eggman attempted to hack into. His efforts were proven to be unsuccessful.
History
Breezie created Breeze Media after helping Dr. Eggman in an early attempt to defeat Sonic the Hedgehog, and was eventually provided with Casino Park by Neo Metal Sonic. (StH: #268, #269, #270, #271)
BreezTV
A television network that broadcasts various programs endorsed by Breezie, including:
Chao Boom-a series about a group of Chao who resemble inhabitants of the Sonic Boom Zone.
Chao in Space-a movie series surrounding the adventures of space-traveling Chao.
Sonic Man-a series featuring an actor who dresses up in a suit modeled after Sonic.
Casinos
Casino Park-Breeze Media's capitol and the site of several casinos.
Casinopolis-another branch of Breeze Media's gaming empire.
Image Gallery of Advertisements and Sponsors
Background Information
Ad blocker interference detected!
Wikia is a free-to-use site that makes money from advertising. We have a modified experience for viewers using ad blockers

Wikia is not accessible if you've made further modifications. Remove the custom ad blocker rule(s) and the page will load as expected.