Blaze the Cat
First Appearance
Issue
Biographical information
Age 

14

Species 

Mobian/Cat

Physical description
Gender

Female

Description

Height: 95cm
Weight: Unknown

Fur: Lavender
Eyes: Yellow

Attire

Purple robe
Red gem on forehead
Pink shoes
Red hairband
White tights
White gloves
Golden mantle

Political Alignment and Abilities
Affiliation
Abilities

Pyrokinesis
Skilled fighter

Notable Super Forms

  
"
I am the guardian of the Sol Emeralds...I command their fiery power...I command ALL FIRE!
"

–Blaze showing her power, StH: #250
History
Personality
Normally cool and collected, Blaze gives the impression that she keeps a tight lid on her emotions, but this may not be her true nature. Despite her calm appearance she can lose her temper easily and when she does, she's quite scary to be around. Her temper also makes it more difficult for her to think clearly, leaving her prone to sneak attacks. While she may at times be tense, she usually remains at least polite; however, she tends to be distrustful of others, especially when the safety of the Sol Emeralds is involved. She dislikes being referred to by her title of "princess" and prefers just being called by her name. She often speaks her mind bluntly but feels grateful to those who have helped her and will do what she can in whatever way to fulfill the debt. She is also very dedicated to her duty as princess, much like Sally Acorn, and does whatever she can to protect her people from outside threats. She also has a fondness of Marine the Raccoon, though often has her patience tried by her.
Much of Blaze's coldness comes from the distance that is enforced between others and herself due to her powers. She views her abilities as both a gift and a curse, and her disciplined nature may be due to her efforts to control them. Making friends like Sonic has helped her to become more relaxed and friendly, though any breach to her slowly developing trust is usually received harshly. Perhaps because threats to the Sol Emeralds are threats to the very survival of her world, Blaze holds little back in dealing with thieves, quickly expressing the possibility of employing lethal force. Under this hard exterior, however, Blaze conceals a fear of heights.
Abilities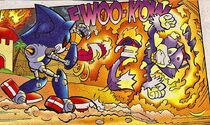 Blaze is a skilled fighter, gifted with the ability to create and control fire. Using her pyrokinesis, she can conjure fire at any place on or all over her body and even launch barrages of fireballs at enemies. By jumping into the air and twirling, she can become a fiery tornado and attacks using her feet and can also conjure up fields of fire around her hands to protect her from damage, which comes in useful during hand-to-hand combat. She has also been shown to teleport with her flames and has a deep, personal connection to the power of the Sol Emeralds. She has been shown to be able to summon a Sol Emerald in the palm of her hand and read its energies. While she lacks their stamina, she is fully able to keep up with Sonic and Shadow's speed for short periods of time. By using this in combination with her fire, she turns into a veritable living comet, and is even capable of brief flight. With the power of all seven Sol Emeralds, she is also able to undergo a Super transformation and become Burning Blaze. (StH: #160, #161, SU: #1, CSE)
Relationships
Background information
Blaze appeared in a backstory in StH #197 as some sort of knight to an evil king, along with Knuckles the Echidna and Shadow the Hedgehog. The story was a comic tie-in to the game Sonic and the Black Knight, and took place in an alternate reality in the comics.
Blaze is the first and only female character in the Sonic series-games, comics, or otherwise-to have a Super transformation thus far.
Confusion of Title
There has been a slight confusion as to her title of being either a princess or a queen. She is called "Queen Blaze the Cat" on the official Sega of America Sonic mini site, Sonic Central as well as the Sonic the Hedgehog (2006) game website. However, in Japanese, her title is 皇女 kōjo, which translates to "imperial princess," and is also called princess in Sonic Rush Adventure. The comic consistently refers to her as a princess.
Confusion of Origins
In the game universe, Blaze seems to have two different backstories as to where she came from. In her debut game Sonic Rush (and most other games afterward) Blaze is depicted as being a Princess and the protector of the Sol Emeralds in a parallel dimension to that of Sonic's world. The same backstory is applied in it's sequel Sonic Rush Adventure which takes place in her universe entirely (Marine the Raccoon also hails from Blaze's world).
However, in her second appearance in the series, Sonic The Hedgehog (2006), Blaze comes from the future where she battles against the fearsome monster, Iblis (whom Silver the Hedgehog also combats at different times). At the end of Silver's story-line, Blaze sacrifices herself by sealing Iblis inside her body with two of the Chaos Emeralds and seemingly disappearing. At the end of the game, it was made so Iblis never existed, causing the events of the game to never happen, meaning that Blaze should still alive. A common theory that writer Ian Flynn also agrees with is that Blaze had removed herself from the universe/dimension and was rewritten after the events o the game were erased into always having lived in the parallel world seen in the other games. The possibility that she and Silver never even met each other is never clarified in the games universe, as in all future appearances they never appear together in their mutual stories and neither of them ever mention each other. Current comic writer Ian Flynn brought an end to the confusion-at least with regards to the comic continuity-when he thoroughly detailed how Blaze and Silver never met. (1) It is unknown if this theory is still viable given the events of the games becoming canon to the comic series.

At the Sonic Boom 2012, Takashi Iizuka confirmed that Blaze comes from the alternate dimension.
Appearance
Blaze is a lilac cat with gold eyes. Her muzzle is white, her inner ears are peach colored and the tip of her tail dark purple (though it has often been miscolored white). She wears a long purple flared mantle-like coat of sorts with a gold collar and white tights; the cuffs are fuzzy and white (sometimes miscoloured lilac). She has plumes of "hair" done up in a high ponytail with dark purple tips. Her outfit is generally accented in pinks and reds, including her high heeled shoes, hairband, coat trim and a small gem on her forehead. She was once briefly shown with her mantle removed.