Archie Sonic the Hedgehog Issue 122
Talk

4
1,950pages on
this wiki
This article is incomplete or has incomplete sections. You can help Mobius Encyclopaedia by expanding it.

This article requires an overall cleanup. You can help Mobius Encyclopaedia by formatting it to ensure it meets the site's criteria.
Sonic the Hedgehog
Publication Details
Issue 

122

Date Published 

April 2003

Publisher 

Archie Comics

Production Staff
Cover Artist

Patrick Spaziante
Nelson Ribeiro

Writer

Karl Bollers (first story)
Ken Penders (second and third stories)

Pencils

Jay Axer (front page and first story)
Art Mawhinney (second story)
Dawn Best (third story)

Inks

Conor Tomas (first story)
Ken Penders (second and third stories)

Letters

Jeff Powell (first story)
Vickie Williams (second and third stories)

Colors

Jason Jenson (all three stories)

Editor
Managing Editor
Editor in Chief
First Appearances
Characters

  
Archie Sonic the Hedgehog Issue 122 was the one hundred and twenty-second issue of the main Sonic the Hedgehog comic series.
Summary
Story One
"Heart Held Hostage" - Part One
The Hedgehog family is gathered outside their house where Sonic is practicing guitar with his father. Eventually, his skill increases and begins to attract a crowd, one in particular being Mina Mongoose (who is hopelessly smitten with the Sonic).
At Castle Acorn, Sally is asking for permission to hang out with her friends, to which her parents agree. She finds her way to Sonic's by tracking down the source of his melody. She also notices a beautiful voice among the crowd (who is revealed to be Mina). With this realization, she begins to leave. The Freedom Fighters wonder why she's leaving; Bunnie catches up to her. She asks what is bothering her, but Sally hesitates, not wanting to rosk sounding silly. Bunnie insists, and Sally tells her she's not so sure that she and Sonic belong together. Bunnie asks if this is about Mina. Sally explains the similarities, but Bunnie cuts her off. She explains that Sonic cares about her more than everything in the world, but the real question is if he knows that Sally feels the same way. However, their conversation is cut off by Nack and his crew, who suddenly charge in on bikes.
Among the crowd, Sonic and Mina congratulate each other on their performance. Bunnie is thrown onto a tree, and soon the party is crashed by the crew. Sonic notices that Nack has Sally, and immediately begins attacking. He's cut off by a speeding gray weasel, who Sonic easily subdues. Mina tries to help, but is almost killed with bullet spray as Sonic pushes her out of the way just in time. He decides to quit the chase, for now.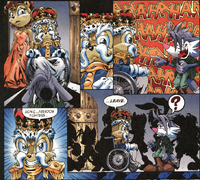 At the castle, the Freedom Fighters try to interrogate the captured weasel. It's revealed their motive was simply to capture Sally for ransom. Bunnie tries to scare him for more information by hanging him out the window, but he is unimpressed. Squeaking into the room is King Acorn. At first the weasel is nervous, but is thrown into a fit of laughter when he realizes the king is handicapped. King Acorn orders the Freedom Fighters to leave. The weasel is confused, but soon realizes what he's in for when Acorn brings in the Royal Guards.
Outside, the Fighters wonder why they were told to go outside. King Acorn comes out and tells them the exact location they are holding his daughter. Sonic instantly dashes away with lightning speed to rescue Sally.
Story Two
"Afterlife" - Part Two
Knuckles is escorted by the Chaos Heralds into a different reality after his funeral. Knuckles attempts to stop the Heralds for questioning, but they disappear when he tries to grab them. Confused, a spotlight shines on Knuckles as an unknown figure tries to explain things. The unknown figure appears as an Echidna through the spotlight, to which Knuckles thinks that she's just another relative no one told him about. She tells him that she is Aurora, to which Knuckles is confused that she's an Echidna. She explains that she appears to how Knuckles comprehends her to look like. She goes on that she is the force of all and can appear to anyone; chameleon, fox, Overlander to how they imagine her. She begins to shows Knuckles an image of his past of Locke seeing her in his dream.
In the dream, Locke sees Aurora as a vision of Armageddon, where he saw a monster bent on destruction (Eggman) and salvation in his only son. After seeing this vision, Aurora explains to Knuckles that Locke was quite attentive to Lara-Le when she was carrying Knuckles. On the night when Knuckles' egg was laid, Knuckles sees that Locke took it to the Brotherhood of Guardians in the Chaos Chamber. He begs Knuckles forgiveness as he does the egg to energies of the Chaos Emerald. Later, Knuckles is born with Lara-Le unaware of Locke's actions. Locke decides to call him Knuckles, "after the warrior tribe his family descended from!"
For the first three years of Knuckles' life, Lara-Le is concerned how Locke is treating Knuckles. Locke explains that he is a Guardian to be and must be taught. She argues that other children don't start school until they're a year older. Locke finishes the argument that he is not like other children and his destiny has been preordained. Aurora and Knuckles watch the vision of the past, as Aurora explains that Locke and Lara-Le would battle constantly over him. Lara-Le soon divorced Lock, and he relocated back to the Floating Island with Knuckles by his side. Knuckles asks "then what happened..."
Story Three
"When There Was Only One Guardian"
Julie-Su is looking through the remains of Knuckles' life in his room, as she contemplates their relationship. She is still depressed on how much she mattered to him, when Vector enters and asks what she's doing inside the man's crib. She doesn't want Vector's attitude and prepares to attack him. Vector turns up his headphones and blasts her away with his music. As Vector apologizes, Julie-Su kicks him, to which Vector says "that one I'll give you." Vector wonders what Julie-Su ever saw in her, as Julie-Su asks him the same question.
Vector begins explaining through a flashback that Knuckles didn't have a choice when Knuckles tripped over Vector asleep. Vector yells at Knuckles about why he can't just relax and listen to his music. Knuckles asks him if he knows about him, to which Vector doesn't care. Knuckles tells Vector his name and that he takes care of things around here. Vector tail slaps Knuckles as Vector mocks Knuckles to run back to his mommy and daddy. Knuckles answers back that he'll give him that one, and punches Vector hard. Knuckles offers him a chance to keep fighting or stop. Vector still upset about the punch says that he wants to listen to his music and takes his hand.
Knuckles begins to question how he got there and that he's the first live body since he and Locke returned to the Floating Island. Vector tells him that there are more people and points in the direction of them. Knuckles is shocked by this news as Vector explains that they were on a plane, when Dr. Robotnik interfered. Vector points to another survivor who calls himself Catweazle. Catweazle demands Vector's respect as he plops on his head and greets Knuckles. Vector disgusted asks for a towel, as Knuckles asks if he should. Back in the present, Vector finishes his story that they were best buds ever since. Julie-Su says that he's more mouth than fighter, as she says that it will be our secret. Vector apologizes again that seeing her with Knuckles' stuff made him mad, since he's still upset about what happened. Julie-Su and Vector begin crying a bit, as Julie-Su tells him that's the only thing they have in common: they both loved him dearly and will miss him.
Quotes
Jules: These roboticized fingers aren't as nearly as nimble enough to pluck those guitar strings, Tails... But I can still teach my boy how!
Sally: ... When I was younger, I always assumed that Sonic and I were soul mates... that someday we'd eventually be together, y'know? Well, lately, I'm not so sure.
Crowd: (Chanting) Awesome! Yeah! FREEBIRD!
Bunnie: (to Weasel) Yuh lucky ah'm a Southern Belle at heart, yuh jerk!
* King Max: (ignoring the weasel's insane laughter) Sonic! Freedom Fighters! Leave! (weasel is confused) Guards, enter! (door slams shut)
Sonic: How'd you get him to talk, your Highness?
King Acorn: Lets just say I made him an offer he couldn't refuse.
Key Events
Nack the Weasel and his gang kidnap Sally for ransom.
Sonic manages to capture one of the weasel gang members.
King Max interrogates the captured weasel, revealing Nack's location.
Sonic leaves to rescue Sally.
Knuckles meets Aurora.
Aurora shows Knuckles his past.
Vector tells Julie-Su how he met Knuckles and Catweazle.
Background Information
After Sonic and Mina's small performance, a member of the audience shouts "Freebird", possible a reference to the song by Lynyrd Skynyrd.