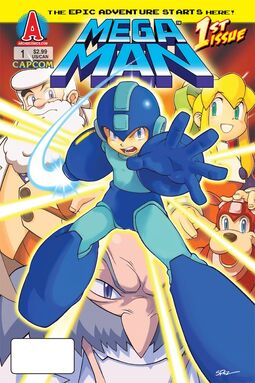 Archie Mega Man
was an ongoing comic book series published by
Archie Comics
, featuring
Capcom
's video game character
Mega Man
. The comic takes part in the "
Worlds Collide
" and "
Worlds Unite
" crossover storylines with the
Archie Sonic series
. The series is currently on an indefinite hiatus as of December 2015, after 55 issues.
Only issues #24-27 and #50-52 are considered relevant to the Archie Sonic universe and thus shall be the only ones to have articles here. Certain details from other issues may also be mentioned when necessary, in which case references will be directed to articles from [Mega Man Knowledgebase]. Any info from before, between, or after the crossovers may be referenced under Archie Mega Man (AMM)
Issues
Part of the Crossovers
Related to the Crossovers
Other
Characters and Concepts
Used in the Crossovers
Heroes
Villains
Locations
Not Used in Crossovers
Heroes
Villains
Locations
Covers
Miscellaneous
Background information
External link
Ad blocker interference detected!
Wikia is a free-to-use site that makes money from advertising. We have a modified experience for viewers using ad blockers

Wikia is not accessible if you've made further modifications. Remove the custom ad blocker rule(s) and the page will load as expected.