Amy Rose
Talk

4
2,514pages on
this wiki
Amy Rose the Hedgehog
Biographical information
Age 

11 (Born on day 186, 3226)

Amy's physical age is closer to 17 due to using the Ring of Acorns

Relatives 
Species 

Mobian/Hedgehog

Physical description
Gender

Female

Description

Height: 64 marks
Weight: 5.9 stone
Fur: Pink
Eyes: Green

Attire

Green and white shirt (formerly)
Yellow skirt (formerly)
Blue shoes (formerly)
Red dress and boots
White gloves
Gold rings
Red hairband

Political Alignment and Abilities
Affiliation
Abilities

Martial arts
Use of Piko Piko hammer
Tarot Card reading

  
For other versions or uses of Amy Rose, see Amy Rose (disambiguation).
Amy Rose is a young, carefree Mobian Hedgehog who has had a crush on Sonic the Hedgehog for years. Originally starting out as just one of Sonic's most devoted young admirers, she would mature into one of his most trusted allies and after proving herself she became a member of the Freedom Fighters who have sworn to protect the world from the evil scientist, Dr. Eggman and his Egg Army. Her loyalty to her friends and team is without question and her improving skills have assured her importance to the Freedom Fighters' cause. She is currently part of Team Fighters and the leader of the occasionally activated Team Rose.
History
Abilities
Romance
Personality
Background Information
Appearance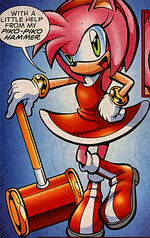 Amy is a pink hedgehog with green eyes. Unlike many other hedgehog characters, her spines are not spiky in appearance (though they were when she was younger) but rather are curved and stylized, somewhat resembling a bob cut. Her eyes have on occasion been miscoloured blue and purple.
As a child, Amy's appearance was generally based upon those of the games, such as Sonic CD and Sonic the Fighters. At the time she wore an orange/yellow ruffled or pleated skirt, a white shirt with puffed green sleeves (sometimes coloured entirely green), red, pink, or blue running shoes, white gloves, and a hairband.
When she was redesigned for the games, Amy's comic appearance changed to reflect that. As a teen, she wears a short red dress with white trim, tall red boots with a white cuff and stripe, a red hairband and gloves with gold cuffs. Her Piko Piko Hammer is generally yellow and red, though at times it's been drawn more akin to a sledgehammer and coloured as metallic. For Bunnie and Antoine's wedding she wore a red gown, and while searching for Sol Emeralds she carried a brown cross-body bag.
During Team Fighters' mission in the tundra, Amy wore a red and white coat similar in style to her dress, though fully enclosed with long sleeves and two draw-strings hanging from the collar with white pom poms decorating them. She also wore a pair of black pants, which were miscolored red at one point, while retaining her usual gloves and boots.
Age Controversy
The age of Amy is often one of controversy. When she first appeared in StH #25 she appeared to be extremely young. However, according to her Sega Data File from StH #112, Amy would have been 9 years of age at that point, which makes her actual age 11, as two years have since gone by on Mobius. Current head writer Ian Flynn has stated her biological age is closer to sixteen. However, Amy used the Ring of Acorns to make her body sixteen years of age in issue StH #79 (when the year was 3236), which makes her biological age 17 as the year 3237 was displayed in StH #157.
Allies
Enemies